Name of Activity:
Dribbling Math Challenge
Purpose of Activity:
To practice foot dribbling and hand dribbling with control. In addition it helps to reinforce math concepts.
Activity cues:
Hand Dribbling Cues
Prerequisites:
Should have had prior experience dribbling with their feet/hands, basic addition, subtraction, multiplication and division skills.
Suggested Grade Level:
2-4
Materials Needed:
A soccer ball/basketball for each student, 50 cones at least with numbers on them, cards with grade appropriate math problems on them, 2 hula hoops.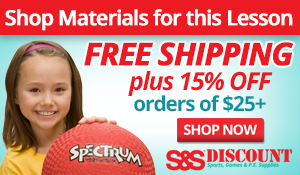 Description of Idea
Have cones spread out around the gym. Have math cards in hoops at the ends of the area. Students begin at a cone with a ball and dribble (hand/foot) to a hoop. Students select a card and dribble to the appropriate cone based on the answer to the math equation. They then dribble back to the hoop, replace card and select a new one.
Sample cards:

What is 6+2?
What is 2+1?
What is 10-4?
Can you find an odd number?
An even number?
What is 10/2?
What is 3 x 4?

Assessment Ideas:
Are students dribbling the ball using the correct technique? Are they able to dribble with the ball under control? Use the Assessment Checklist to record student skills.

---
Submitted by Lauren Lynch who teaches at Rodeph Sholom in New York, NY. Thanks for contributing to PE Central! Posted on PEC: 10/26/2002.

Viewed 79936 times since 10/4/2002.
---
---
Previous Comments:
There are currently no comments to display. Be the first to add a comment!