Name of Activity:
The Launch Board Catch
Purpose of Activity:
To provide young children with the opportunity to develop catching skills using a launch board.
Suggested Grade Level:
PreK-1
Materials Needed:
A launch board and a small ball, beanbag, or kooshball for each child.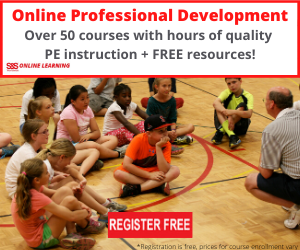 Description of Idea
A great way to help young children achieve catching success is to use a launch board. When a child steps on one end of the board a beanbag on the other end flies into the air directly in front of the child. This gives the child a better opportunity to catch the object.

Teacher Instructions - "Place your beanbag on the low end of the board. Go to the other end, get your hands ready to catch by holding them out in front of you, then raise your foot and stomp on the end of the board. As the beanbag flies into the air in front of you, clasp your hands around the beanbag and catch it. You may also want to hug the beanbag to your body"

As children get better at catching they can be challenged with more difficult tasks. "See how high you can make the beanbag go and still catch it." Or, "See how many times you can clap your hands while the beanbag is in the air and still catch it."
Teaching Suggestions:
Most children, at first, will have trouble coordinating the acts of picking up the foot and stomping on the board. They may stomp in the wrong place or miss completely. It helps to have them practice this without an object first

These make a lot of noise so either put felt on the bottom of both ends or tell your classroom teachers to wear earplugs!!
---
The following video clip is used with permission from the School of Physical Education & Exercise Science, University of South Florida. All rights reserved. 2007.
---
Video

Submitted by Steve Sanders who teaches at Univ. of South Florida in Tampa, FL. Thanks for contributing to PE Central! Posted on PEC: 11/12/2008. Viewed 151919 times since 8/24/2001.
The Launch Board Catch

---
Previous Comments:
MixToomo

hi guys :). I am looking for help for me and my girl. i am from France

MixToomo

hi guys :). I am looking for help for me and my girl. i am from France

muhammad nadem
MUSSİ

THERE İS A GOOD İDEA I GUESS
I AM A P.E TEACHER İN A KİDDYGARDEN İN TURKEY, I AM USİNG HOOPS DİFFRENT COLOR. EVERY COLOR APRX.5 HOOP SAME COLOR. YELLOW COLOR ONE SİDE İN THE GYM, AND OTHER COLOR OTHER SİDE. KİDS BETWEEN THE HOOPS. WHEN I WİSHLE THAN SAY COLOR "YELLOW". ALL KİDS ON THE YELLOW HOOPE. THAN 2 COLLR, "WİSHLE AND RED+BLUE". WİTH THİS WAY I CAN SEE THER REACTİON PROSES, MEMORY (WHEN I SAY 4 COLOR İN SAME WİSHLE) AND COMPETİTİVE CAPACİTY.

Lisa

I have bought your exercise book for preschoolers which are stories and my children want to do it every day. I also got a school grand to make the launch boards, I am trying to view the version to get the dimensions but unable to view. CAn you send me the measurements please? Would love to start making them! What a terrific product. Lisa lis

Kenyon Williams

I could not open the video. I thought their were instructions on how to build a launch board.

Thanks

Ningrum

I am from Indonesia, my students love this, and the boards is easy to make .. thank you for the video, the lesson plans, everything you put in your site that we can apply to Indonesian students, THANK YOU!

Mark

Try going here for the video. It is working for me. Thanks.

http://www.pecentral.org/mediacenter/video_catchinglaunchboards.html

amira
lef. luis arturo urbina sanchez.

es una idea exelente ademas de ampliar la gama de actividades para lograr que el alumno alcance sus objetivos
---
---