Name of Activity:
Pathway Movement
Purpose of Activity:
To assist young children in identifying pathways and to explore movement along those pathways.
Suggested Grade Level:
PreK
Materials Needed:
Colored Construction Paper, Tape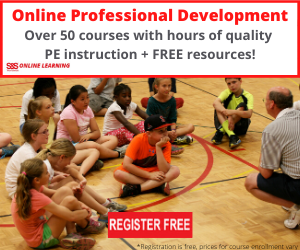 Description of Idea
Cut small footsteps (child size), arrows, dots, squares, and other shapes out of construction paper. It is strongly recommended to have these shapes laminated. Tape shapes on the floor in the movement area to form zig zag, curved and straight lines.
Ask children to move around the room and follow the teacher designed pathways made with the shapes. Children should be allowed to explore the variety of locomotor movements they can do while moving along the various pathways.
In addition to taping pathways on the floor in the movement area, tape them on the floor in the children's classroom.
Variations:
As children develop a sense of what the pathways are
provide the paper shapes and tape and let them design their
own pathways on the floor.
Assessment Ideas:
At the conclusion of the class or when children return to the classroom, ask that they draw pictures of the curved, zig zag, and straight pathways.
Submitted by Steve Sanders Thanks for contributing to PE Central! Posted on PEC: 6/3/2008. Viewed 144632 times since 8/24/2001.
Pathway Movement

---
Previous Comments:
| | |
| --- | --- |
| Lara | I want to know basic choreographic devices such as unison and canon, Thank You |
| erwbella | response to Chelsea:- pathways means zig-zag, curves, straight lines, a shape ect! |
| chelsea | i want info. on wat is meant by pathways in PE |
| nicole | going to try it...wish me luck |
---
---