Name of Activity:
Dribble Dance
Purpose of Activity:
To develop hand dribbling skills while working cooperatively with a partner.
Activity cues:
See hand dribbling cues on PE Central.
Prerequisites:
Students should be able to perform a variety of dribbling skills: dribbling with dominant hand, non-dominant, alternating.
Suggested Grade Level:
4-5
Materials Needed:
A ball for each student, a piece of paper and pencil for each pair of students, a clipboard (optional if outside), your own peer performance checklist sheet for evaluating the routine.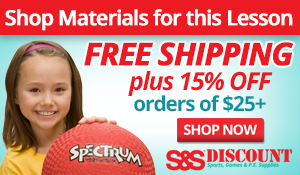 Description of Idea
Students choose a partner with similiar dribbling skill. Students are instructed to create a short dribbling routine with their partner using the dribbling skills previously practiced in class. Each pair is encouraged to be creative and to work cooperatively while creating the routine.

Develop some parameters for the routine such as: Include 3 skills, 8 counts (or beats) for each skill and the partners will be stationary. To make the routines harder, you can include a partner relationship such as matching or mirroring. If still more difficulty is needed you could add traveling for part of the routine and the moving relationships of leading and following or meeting and parting. Students who are advanced could add "fancy" dribbling.

Students can write down their routine as they practice. Students perform their routines after sufficient practice in front of another pair of students. The viewers can serve to assess the performance by using a checklist. At the end of each routine, I have students who watched say something they liked about the routine.
Assessment Ideas:
Teacher can observe each students ability to dribble using each hand, and their ability to work with a partner.

Performance assessment: Are all of the required elements in place while the routine is performed for partners? Are children using the correct dribbling cues?

Portfolio assessment: Write the routine on paper and check for inclusion of all elements.
---
Submitted by Pete Anderson who teaches at The Harker School in San Jose , CA . Thanks for contributing to PE Central! Posted on PEC: 11/3/2000.

Viewed 57897 times since 8/24/2001.
---
---
Previous Comments: