Name of Activity:
Countdown to Christmas Break Fitness Stations
Suggested Grade Level:
3-5
Materials Needed:
Paper Cut-outs (laminated to reuse)
Bulletin board space (optional: if you wish to implement this way)
Christmas music (optional)
List of Fitness Activities (word document so you can edit)
List of Fitness Activities (PDF document)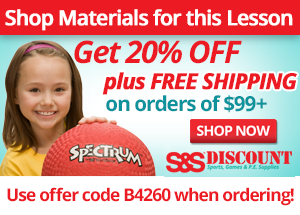 Description of Idea
Students enter the gym and go directly to the bulletin board or whatever space you choose to use to display the activities. You have a different set of activities for everyday of school till students leave for Christmas break. On each paper the number is listed (which represents the number of days till break) and 3 exercises. The 3 exercises represent cardio respiratory endurance, flexibility, and muscular strength/endurance. The student completes each activity the number of times that represents how many days of school are left till break. After all exercises have been completed individually or with a partner, the students walk around the perimeter of the gym till the next activity begins.
Example: (we had 18 days till break when I began the activity)
18
Tuck jumps
Curls ups
Seconds of stretching
17
Line jumps
Wall Push ups
Seconds of stretching
16
Star Jumps
Frog Jumps
Seconds of stretching
Bulletin Board Used
Variations:
Consider using and adapting for other breaks - fall, spring, summer. Adjust activities to meet the break.
You could add an explosive category using tuck jumps, frog jumps, rabbit hops, etc. And mix in upper body and lower body strength work as well as using a core category that addresses both front side and back side (sky divers, supermans).
Teaching Suggestions:
Some students do not celebrate Christmas. Therefore, you could do a "countdown to winter break".
For younger students, I do the activities with them so they can see correct examples of the fitness exercises.
Submitted by Ashlei Lowman who teaches at Icard Elementary in Connelly Springs, NC. Thanks for contributing to PE Central! Posted on PEC: 1/7/2017. Viewed 13939 times since 12/6/2016.
Countdown to Christmas Break Fitness Stations

---
Previous Comments:
There are currently no comments to display. Be the first to add a comment!
---
---