Name of Activity:
Basketball Pinball
Purpose of Activity:
To practice basketball dribbling with your hand.
Prerequisites:
Students must have an understanding of the
critical elements of dribbling
and had a prior practice session.
Suggested Grade Level:
3-5
Materials Needed:
Each pair of students need a hula hoop and a ball to dribble that the student is comfortable with.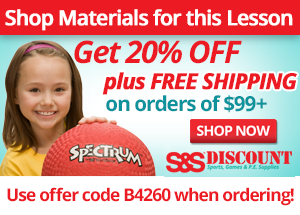 Description of Idea
The class is split up into pairs, with each pair needing a hula hoop and a ball to dribble. The activity is usually done on a volleyball court but you can do it anywhere as long as you establish some boundaries.
The teacher/students will place their hula hoop on the ground within the playing area, with one partner standing inside the hula hoop. Once the activity begins the students are not permitted to move the hula hoop. The student inside the hula hoop must keep one foot inside the hula hoop at all times. The student in the hula hoops goal is to knock away the basketball from the students that are dribbling all over the inside of the playing area.
The dribbling partner, will try to keep control of the ball while dribbling around the playing area. After a few minutes have the students switch with their partner.
If the ball is knocked away just retrieve and start again.
Variations:
To make the game more difficult you can also have the dribblers try to knock the ball away from the other dribblers.
Submitted by Matt DeChicko who teaches at Donaldson Elementary School in Oakdale, PA. Thanks for contributing to PE Central! Posted on PEC: 6/16/2015. Viewed 47534 times since 2/16/2015.
Basketball Pinball

---
Previous Comments:
There are currently no comments to display. Be the first to add a comment!
---
---