Name of Activity:
2014 Love Hall Winter Olympics
Purpose of Activity:
The purpose of this activity was to create a fun and creative learning experience in Physical Education for our students to learn about the sporting events represented in the 2014 Winter Olympic Games. Emphasis was not placed on competition. Good sportsmanship, teamwork, cooperation, creativity and having FUN were the main objectives.
Prerequisites:
Students should have prior practice in spatial awareness. jumping and landing, scooter board safety, balance activities and striking with long-handled implements
Suggested Grade Level:
K-2
Materials Needed:
Polyspots, scooter boards, cones, tumbling mats, foam hockey sticks and plastic pucks, paper plates, juggling scarves, jump box or gym plank, foam noodles and foam stilts and check out our
bulletin board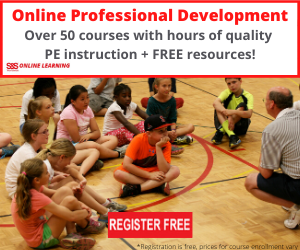 Description of Idea
We collaborated with one grade level (4 classes) during the Winter Olympics. The students learned important facts about the games including geographic location, medal counts, mascots, 15 winter sports represented etc. An Olympic packet for the students was put together by the classroom teachers. Some of the answers to the questions about Sochi and the games were on our bulletin board in the gym. Also, we sent the classroom teachers links to several websites that they could share with their students.
Venue passes were made for each student and they proudly wore them to Physical Education class. We kept up with the daily medal counts and shared them with our students. A bulletin board was put together for the gym that used pictograms for each of the 15 winter sports, a torch, a map of Sochi and the olympic rings and what each ring stands for. Video clips were made of our students working at the Olympic stations and a video was made and displayed on a flat screen TV in the hallway of our elementary school. Scroll down to see the video.
5 Stations were set up in the gym representing various Winter Olympic events. These are explained next.
Station 1 - Luge & 1 & 2 Man Bobsled
The Luge: Three scooter boards connected together provided a great luge. There was one rider flat on their back with another student pushing. The student pushing had a push line where they had to stop and let go. Students were instructed to stay in the "luge" position until they glided into the safety mats. After their "race," they would pick up their "luge" and go back to the start line.
The 1 and 2 Man Bobsled was also an option at this station. The 3 scooter boards were placed under a tumbling mat in the center. For the 1 Man Bobsled, students would have someone push them to the push line, and their "race" would begin. For the 2 Man Bobsled, one student sat at the end of the mat while the other student would push and then sit on the back. Students would ride until their bobsled came to a stop or glided into the safety mats.
Station 2 -The Ski Jump
Students would walk up 2 plank boards to the end and jump as high and as far as they could AND stick the landing.
Station 3 - Hockey
There were 3 make shift goals we created using our tumbling mats. The students could do game style play or a shoot-out style game with a shooter and a goalie.
Station 4 - Cross Country Skiing, Speed Skating and Figure Skating
There were 3 options at this station.
Cross Country Skiing was set up by using mini-cones to create a "course." The students were given a pair of stilts as their "skis" and attempted to tackle to course by walking on them around the outside. .
For speed skating, we used juggling scarves and paper plates as their "skates." Students would race around the course using their plates and or juggling scarves and if they came off of them, they were instructed to stop and readjust in order to finish.
Figure skating was done on the inside of the course. Again, paper plates and scarves were used as their skates. Students were challenged to be creative and imaginative in their skating "routines."
Station 5 - Mogul Skiing
We set up polyspots that simulated a "moguls" type course. Students used noodles that were cut in half as their ski poles. With their knees together and a 2 footed jump, students were challenged to jump and hit every spot. After the moguls section, they would run, hit the spring board and do a jump or jump turn and stick the landing. Then several more "moguls" or polyspots were placed at the end of the mat to complete their run.
The pictograms on the bulletin board (that was published on PE Central) allowed the students to become familiar with all 15 of the winter sports.
Assessment Ideas:
The Olympic packet created by the classroom teachers helped us assess what the students were learning. The pictograms on the bulletin board allowed the students to become familiar with all 15 of the winter sports. The students became familiar with medal counts, names of the competitors, and the medal standings daily.
Adaptations for Students with Disabilities

Modifications were made at each station based on the disabilities of each child.
Images:

Video

Submitted by Bill Mosley who teaches at The Westminster Schools in Atlanta, GA. Additional authors for this idea were Kahlil Boyette and Sharon Throckmorton. Thanks for contributing to PE Central! Posted on PEC: 2/27/2014. Viewed 73019 times since 2/26/2014.
2014 Love Hall Winter Olympics

---
Previous Comments:
| | |
| --- | --- |
| Gerri Taylor | Looks terrific and I am eager to try this winter. Quick question, were the foam stilts a DIY project or purchased? Thanks! |
| Amy A. | I have used cardboard for skates and skis. They work good in my gym as I have a concrete floor. I also use buddy walkers for the skis. I like your mogul skiing! I love doing activities for the Olympics! Thanks for sharing some of yours. |
| Jeanne | What great opportunities for each child in Love Hall. Only wish I could be one of the participants!!!!! |
| Whit | Simply amazing! What's even better is that I get to work with these awesome teachers everyday. Way to go Bill, Khalil and Sharon! |
---
---