Name of Activity:
Responsible Personal and Social Behavior
Purpose of Activity:
To assess responsible personal behavior during a team sport unit, lead-up, and/or game play. This assessment addresses SHAPE America Standard 4.
Suggested Grade Level:
6-8
Materials Needed:
Paper, pencil, clipboard or similar set-up on computer program or learning management system.
Assessment Sheet with Rubric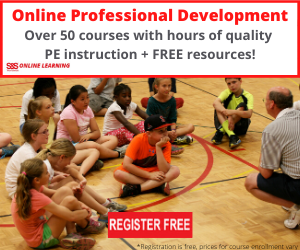 Time Needed to Complete:
Depends on number of students in class
Description of Idea
This assessment will help the teacher assess students personal and social behavior during a game play unit. Make sure to go over the rubric sheet with the students so they understand what you are expecting in terms of their behavior.
The rubric and scoring sheet list many of the components of a Responsible Student Behavior that are mentioned on the SHAPE America Standards details and on the SOL's in Virginia for grades 6-10. The rubric explains each behavior and states the details for each category and level. During game play, use the scoring sheet to record only the number of lapses in good behavior in the first 4 categories. In addition, you can record exemplary helping and leadership behavior while students are playing a game, lead-up game, or doing drills. This can be done on paper if you prefer or it can be uploaded and completed on a computer. (if you have Wellnet, other learning management systems, an Assessment App or just MS Excel.)
Scoring Rubric:
Accepts decision of refs or teacher: Student receives 0 warnings/behavior marks throughout the unit for inappropriately arguing a point (yelling, stamping foot, aggressive gesturing)
Follows safety rules for class/sport: Student receives 0 warnings/behavior marks throughout the unit regarding safety rules (dangerous to self or others)
Demonstrates respect for others: Student receives 0 warnings/behavior marks throughout the unit respect toward others (any negative actions toward another student)
Work together with their team: Student receives 0 warnings/behavior marks throughout the unit regarding interaction with teammates (arguments, noncooperation, inappropriate actions)
Supportive encouraging of peers: Student receives 5 or more citations for encouraging peers (help another, positive comment about a play, positive pat on the back)
Demonstrates leadership & role model behavior in groups: Student receives 3 or more citations for leadership in groups Student helps others, with skills and strategies and goes beyond encouraging to lead others to be better player in skills, strategies and behaviors)
Teaching Suggestions:
You can mark entries on all columns of the recording form in one session or you can choose one or two columns per session. Adjust as they pertain to your state standards. The scoring sheet and rubric can be used as part of a unit, or can be used to assess changes in behavior throughout the semester.
Submitted by Anna DeVito who teaches at Radford University in Radford, VA. Thanks for contributing to PE Central! Posted on PEC: 8/8/2018. Viewed 50837 times since 9/22/2013.
Responsible Personal and Social Behavior

---
Previous Comments:
There are currently no comments to display. Be the first to add a comment!
---
---