AlphaBaby free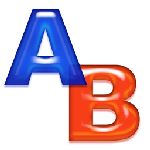 Name of App:

AlphaBaby free

Recommended Grade Level:

K-2

Category:

Fitness

Platform:

Apple

Device Used On:

iPad

Cost of App:

$0.00

Download Site:

https://itunes.apple.com/us/app/alphababy-free/id333177252?mt=8

Primary Use:

Integrating literacy while teaching fitness components. I use this as a warm up after it has been taught.



How App is used in classroom/gym:


Set Up: In the middle of the gym place iPads in a circle on turned over tubs. Post numbers, 0-10, on the walls representing aerobics, Some cones with strength/shape task cards on one side of gym and an alphabet task card on the opposite side of gym that represents flexibility.

Play: The app will randomly show a number, letter or shape when a student touches the white background. If a letter is shown student goes to the alphabet poster(s) and uses flexibility to stretch, twist and bend to form a letter and holds it for 10 seconds. I made my alphabet poster from two old Golden Books called Grover's Alphabet. Another option could be to take pictures of students doing the letters.

If a shape is shown the student goes to the strength/shape task card and does the corresponding strength activity. For example a circle represents a plank so students would hold a plank for 10 seconds.

If a number is shown the student goes to a wall and touches that number and every number lower than it. If they got the number 3 they would touch 3,2,1,0. If they got the number 8 they would touch 8,7,6,5,4,3,2,1,0. Numbers represent aerobics.

Number Posters

This video will explain and showcase the app:


---
Submitted by Sandy Hagenbach in De Pere, WI. Thanks for contributing to PE Central! Posted on PEC: 4/23/2016 11:08:59 AM. Viewed 10448 times since 4/23/2016.
---
---
Previous Comments:
There are currently no comments to display. Be the first to add a comment!