Name of Activity:
P.E. Bees
Purpose of Activity:
To teach students daily positive social living skills and manners.
Prerequisites:
This concept is taught in the beginning of the year. Each class I take 30 seconds - 2 minutes to explain the P.E. Bee of the Week.
Suggested Grade Level:
K-2
Materials Needed:
2 large bee pictures and 36 or so small bees with diferent sayings on them.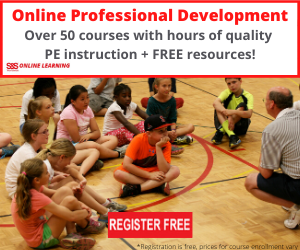 Description of Idea
There are two large bumble bee signs hung above our P.E. rules. I wrote P.E. on one and Bees on the other. The whole theme is "How to Be in P.E." and I stress this concept outside of class as well. I have posted small bumble bees around the P.E. rules sign. On each bee there is a word or a saying on how to "be" in P.E. Examples are be:




on time



polite


a good listener


a team player


helpful, etc.


Each week, I pull down one sign and place the bee on a lanyard backwards. I share the bee with the students sometime during class and at that point, I turn the bee around. During the middle of the week I place the bee back on the wall.
When I see the students displaying the behavior of a bee (or any one of them posted), I give positive feedback to those students and sometimes reward them with a bee stamp on their hands, a stamp on a piece of paper or a bee sticker. I tell the parents if you see a bee stamped on their child, find out why they received one!
Assessment Ideas:
I sometimes have the students verbally tell me the bee we have gone over in class so far. I also have students give me some examples of what the bee means. I also give the student different situations and they have to tell me what I should be during the situation. I always incorporate the various bees into every lesson to keep reviewing and stressing their importance.
Submitted by Amanda Chambers who teaches at Glendale Elementary in Niagara Falls, NY. Thanks for contributing to PE Central! Posted on PEC: 8/16/2002. Viewed 47815 times since 8/13/2002.
P.E. Bees

---
Previous Comments:
There are currently no comments to display. Be the first to add a comment!
---
---