Name of Activity:
EGG-cercise Stations
Purpose of Activity:
To practice previously learned skills in a holiday-themed setting, while maintaining continuous physical activity.
Prerequisites:
Students should be able to hop, toss, catch, and perform a forward roll, log roll or cartwheel.
Suggested Grade Level:
K-2
Materials Needed:
two sets of giant hands (If you don't have these students can just use their own hands), six gator balls (four for station 1, two for station 2), four beanbags, three stretch bands, one mat, six spoons and plastic or wooden eggs, music, three or four buckets, four or five small cones * The amount of materials needed is based on a class of 20 students. Increase the number of items for larger classes.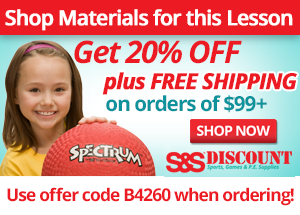 Description of Idea
Divide the students into five even groups. Each group starts at a station and has about 4-5 minutes at each station. Have music playing and stop the music when it is time for students to move to the next station.
Station 1 - Egg Toss: Each student has one gator ball and one beanbag. Students must try to get their beanbag and gator ball into the buckets using only the underhand toss.
Station 2 - Egg Catch: Students partner up, one student with the giant hands and one with the gator ball. The student with the ball will throw to the student with the hands. If the student with the hands catches the ball, then they take a step back. They keep moving back until they miss the ball. Then the students switch.
Station 3 - Egg Roll: Students may perform a log roll, cartwheel or forward roll to move across the mat.
Station 4 - Egg Balancing: Each student has a spoon and egg. The students will balance the egg on the spoon and move around 4-5 cones in the area. If they can make it back to the beginning without dropping the egg, then they can move around the cones using different movements such as skipping, hopping, etc.
Station 5 - Partner Bunny Hopping: Students partner up and are given a stretch band. Each student places one foot inside the stretch band and they must try to hop from one end of the gym to the other. If there is an odd number they can try to use three people and two bands.
Assessment Ideas:
A checklist can be used to observe the skills of tossing, catching or the rolls.
Adaptations for Students with Disabilities

Students with disabilities can move closer to the bucket in Station 1.
Students can use velcro on the hands and on the gator balls in Station 2.
At station 4, velcro may be used on the egg and spoon or the students can be given a larger spoon.

Submitted by Jason Steele who teaches at Perkett Elementary in Minot, ND. Thanks for contributing to PE Central! Posted on PEC: 9/29/2010. Viewed 31960 times since 3/29/2010.
EGG-cercise Stations

---
Previous Comments:
There are currently no comments to display. Be the first to add a comment!
---
---