Name of Activity:
Throwing at Targets
Purpose of Activity:
To assess students on their throwing form, challenging them to throw at stationary targets using cues given by the teacher.
Suggested Grade Level:
3-5
Materials Needed:
Throwing manipulatives (gatorskin ball, football, tennis ball), Targets (mats, cones, small targets)
Rubric
(PDF)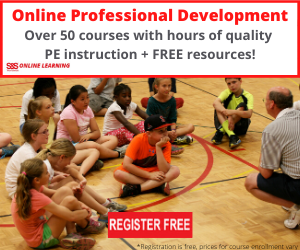 Time Needed to Complete:
15-20 minutes (depending on class size)
Description of Idea
Students will move around the gym in groups of 4-5 engaging in various throwing stations. One station will allow teacher to assess students on throwing at stationary targets. 4-5 different targets will be used at the assessment station and the students will throw at each target 2-3 times, giving the teacher time to assess each student.
Scoring Rubric:
Write student's name in first column, then put a check mark in column of corresponding level using the cues for throwing.
View rubric
(PDF)
Side facing target – the side opposite your throwing hand is facing the target
Step with opposite foot – Step towards your target with your foot opposite your throwing hand
Eyes on the target – keep your eyes on the target at all times
Follow through – throwing arm should follow the ball, ending up by your knee
Variations:
If students have mastered throwing at a stationary target, move on to moving targets, followed by people catching the manipulative and guarded people.
Submitted by Mark Krommenacker in Wisconsin Rapids, WI. Thanks for contributing to PE Central! Posted on PEC: 3/5/2010. Viewed 53769 times since 2/18/2010.
Throwing at Targets

---
Previous Comments:
There are currently no comments to display. Be the first to add a comment!
---
---