Name of Activity:
Give Thanks Warm-up
Purpose of Activity:
To warm up for a lesson while getting into the spirit of Thanksgiving.
Suggested Grade Level:
3-5
Materials Needed:
poster with the words "Give Thanks" and a quick description of each activity, mats for performing the "inchworm"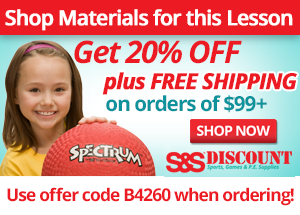 Description of Idea
Students will complete a different warm-up activity for each letter of the words "GIVE THANKS." These can be done together with directions given verbally by the teacher, or self-directed with each student completing the exercises on their own.
G: GRAPEVINE - Grapevine to the opposite endline and back (or gallop for younger students).
I: INCHWORM - Move from endline to midline like an inchworm (lying on stomach, walk feet up toward hands until your body forms a "V", then walk hands out again, or try the breakdance move: "The Worm").
V: V SIT - Stretch for the count of 15, two times.
E: ENCOURAGE SOMEONE - Shake hands with at least 2 people and encourage them by giving them a compliment.
T: TOE TOUCHES - Touch your toes ten times.
H: HIGH FIVE - Give everyone in class a high five as quickly as possible.
A: ARM CIRCLES - Circle arms 10 times forward and 10 times backward.
N: NECK STRETCHES - Tip head to one side (ear to shoulder) slowly, then to the other side, 10 times.
K: KNEE LIFTS - Lift right knee then left knee, 10 times each.
S: SKIP - Skip one lap around the gym.
Variations:
For younger students, the gallop could be used instead of the grapevine.
Assessment Ideas:
Use a checklist to see if students can perform skipping and the grapevine correctly.
Adaptations for Students with Disabilities

Students with wheelchairs can substitute the locomotor skills of grapevine and skipping by moving the wheelchair (alone or with a peer or paraprofessional). Inchworm can be substituted with an "arm crawl" along a wall, by moving fingers and upper arm, inching along. The V sit can be substituted with an arm stretch. The other activities can be performed from the chair.
Submitted by Lisa Dess who teaches at Dulce Elementary School, Dulce, NM in Pagosa Springs, CO. Thanks for contributing to PE Central! Posted on PEC: 2/5/2010. Viewed 47575 times since 12/28/2009.
Give Thanks Warm-up

---
Previous Comments:
| | |
| --- | --- |
| Miss W | These are great warmups in general! Love them. I will be making a big poster with GIVE THANKS to use during! |
---
---