Name of Activity:
Frosty the Snowman
Purpose of Activity:
To practice the overhand throw, aiming at a target, while enjoying a wintertime game.
Prerequisites:
Students understand the cues to throw overhand.
Suggested Grade Level:
3-5
Materials Needed:
6 mats, 14 bowling pins, mini gator skin balls, fuzzy fleece balls, 10 cones, 4 tires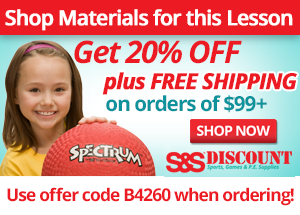 Description of Idea
The goal of the game is to knock down the other teams's pins, without knocking down the pin inside the stacked tires. The team that knocks over the hidden "Frosty" pin loses the protection of their snow fort.
1. The gym is divided in half with cones across the middle.
2. Students will be divided into two teams and must stay on their half of the gym.
3. Each team has two "snow forts" (standing mats) on their side of the gym near the midline and 7 bowling pins set up near the back of the gym.
4. One pin, in the center of the row of pins, is hidden inside two stacked tires. This pin is "Frosty." If you knock down the other teams Frosty, a Blizzard (teacher) comes and blows down your snow forts.
5. If a player gets hit by a snowball, he/she must go do ten snow angels on a mat which is off to the side on their own side of the gym. Once they complete the snow angels they are back in the game.
6. There can only be one guard per pin.
7. Once a team knocks down all of the other team's pins, the game is over.

Assessment Ideas:
Using a checklist of throwing cues, observe the overhand throw to assess proper form.
Adaptations for Students with Disabilities

Adaptations can be made by providing larger balls and also allowing a closer range for throwing at the target.
Submitted by Angela Weikel who teaches at Linden Elementary in Doylestown, PA. Additional authors for this idea were Tim Foster. Thanks for contributing to PE Central! Posted on PEC: 3/8/2010. Viewed 98599 times since 12/16/2009.
Frosty the Snowman

---
Previous Comments:
| | |
| --- | --- |
| Melinda F | The Students LOVED this game! The only change we made is that you want to knock over frosty, so there is a blizard for the team whos frosty gets knocked over to make it easier to hit the other pins...Frosty=Forts no Frosty no protection |
| Lisa D. | The students loved this game! I made a few adjustments to make it "my own." I added that if you throw a ball and make a shot into the other team's basketball hoop, you can stand up one of your knocked down snowmen. |
| Jean Cornwell | The goal of the game is to knock down the other team's pins, but if their snow fort is blown over and the other team is trying to throw the ball s at the other teams pins...how would the kids get hit by a snowball. Is it done on accident, like walking into a ball in motion or are students targets? What happens if a student catches a snowball, does it matter? |
| Tim | Game is awesome, kids love it. If you don't have tires, hide "frosty behind two tall cones. |
---
---