Name of Activity:
Parachute Color Match
Purpose of Activity:
To work on the cognitive concept of color awareness and matching while practicing following verbal directions with the parachute.
Prerequisites:
Best if the students have practiced the basic parachute skills prior to starting the activity.
Suggested Grade Level:
Preschool
Materials Needed:
Small parachute, beanbags or yarn balls that match the colors on the parachute.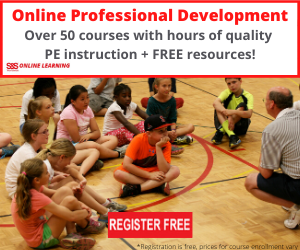 Description of Idea
This makes for a nice short activity that can be done at the beginning of the class. It does not have to be done the entire 30 minutes if you are in a PE setting.
Have children sit on the floor with their feet under the parachute and two hands holding the edge. 4-6 children (depending on how many colors are on the parachute) are given a bean bag (or yarn ball) that they set on the floor next to them. There should be one bean bag for each color on the parachute. I demonstrated the activity once with my own bean bag before handing them out to students. I called out a particular color of bean bag and the student that has that color bean bag throws it onto the parachute. (I encourage them to use an overhand throw and toss it across the parachute, not just set it near them.)
We then see if the beanbag landed on the same color or a different color on the parachute than the color of the beanbag. If it is on the same color, we (the class) "Pop" the beanbag up into the air to send it flying. If it is on the different color, we do small shakes and wiggles, then stop and see if it has landed on the same color and keep going until it does.
I used colored animal beanbags so was able to give one to each child, and would then call out "red bear", etc. so each child could have a turn. You could also gather the beanbags that have been popped and give them to children who have not had a turn. It works best with only one beanbag on the parachute at a time.
Submitted by Laurie Nelson who teaches at Centennial Early Childhood Program in Circle Pines, MN. Thanks for contributing to PE Central! Posted on PEC: 1/21/2010. Viewed 106151 times since 12/8/2009.
Parachute Color Match

---
Previous Comments:
---
---