Name of Activity:
Reading Labels: Which snack is the best choice?
Purpose of Activity:
To provide students with the knowledge of how to determine the nutritional information within snacks. Students will identify different parts of labels as well as compare snacks.
Suggested Grade Level:
9-12
Materials Needed:
Reading Labels Power Point
or in
Reading Labels PDF
Snack wrappers of commonly eaten snacks at your school
Cones
Variety of exercise equipment depending on exercises chosen to utilize: ie- exercise mats, jump ropes, step boxes, medicine balls, weight bars etc.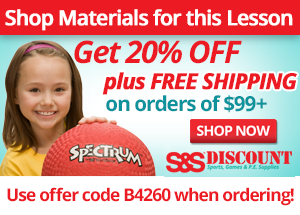 Description of Idea
Begin lesson with reading labels power point or discussion. Be sure your students are able to determine where to find specific nutritional information. Set up 10 stations (or more) identified by cones. At each station have a station card that has a snack wrapper and label attached to it. On the station cards give instructions as to what nutritional information you want the students to identify and couple an exercise to go with that information. Examples might include:
1- Cheese-its. Identify the CALORIES PER SERVING in one serving of Cheese-its. Perform one jump-rope for each calorie in the snack!
2- Skittles. Identify the amount of SODIUM in one serving of Skittles. Perform one sit up for each gram of sodium.
3- Grandmas Cookies. Identify THE NUMBER OF SERVINGS that are in one package of Grandmas Cookies. Jog one lap for every serving.
4- Snickers. Locate the TOTAL FAT GRAMS that are in one Snickers bar. Perform one box step up for every gram of fat.
5-Fruit-Snacks. Identify how many GRAMS OF SUGAR are in ONE serving of Fruit snacks and perform the same number of jumping jacks.
6- String Cheese- Identify the number of CALORIES FROM FAT in one serving of string cheese and perform the same number of push ups.
7-Capri Sun- Identify the PERCENTAGE OF VITAMIN C in one serving of Capri Sun Juice and perform one body weight squat for each percentage!
8-Lays Chips- Identify the GRAMS OF CARBOHYDRATES in one serving of Lays potato chips. Perform one weight bar exercise for each gram of carbohydrate.
9-Yoplait Yogurt. Identify the amount of PROTEIN GRAMS in one serving of Yoplait Yogurt. Perform one pull up (or pull up hang) for each gram of protein.
10- Chocolate Milk (the type the cafeteria gives with lunch). Identify the daily percentage of VITAMIN D in one serving of Chocolate Milk. Perform one medicine ball exercise for each percentage!
Reading Labels Power point or in Reading Labels PDF
Assessment Ideas:
While working through the stations each student could have a check sheet to record the correct answers for each station. This could act as a pre assessment or as a quiz itself.
Submitted by Kristal Kostiew who teaches at MSA West Academy in Addis, LA. Thanks for contributing to PE Central! Posted on PEC: 11/2/2012. Viewed 114210 times since 11/15/2009.
Reading Labels: Which snack is the best choice?

---
Previous Comments:
NE_Philly Teacher
Tanner Cavenee
Krista M.

Thank you for posting the power point. I am going to try this with my health classes

Mark Manross from PEC

The PowerPoint is now available. See the materials section at the top of the lesson.

Christine Shine

I would like to use this in my health class with the powerpoint. Would you please email it to me?
Thanks
[email protected]

Kris G

I am getting ready to use this lesson during my nutrition unit and would like to also use the powerpoint. Can you please e-mail me the powerpoint? Thanks! [email protected]

Josh M

Love to try the lesson! would you please send me the Power [email protected]
Thank you

Chris Castner
Holly

This sounds like a great activity! Could you please email me the powerpoint. Thanks, Holly S.
[email protected]

fawn cater
Sarah
Gail
Suzi
Pam Lutz

This looks great..could you please email me the power point presentation at [email protected] Thanks!

Eric Speece

Could you please email me the powerpoint presentation for the Reading labels lesson. Thanl you

Greg Hess

Could you e-mail me the powerpoint for this lesson at [email protected] it would be much appreciate for my class.

Shanna Perine
Jenni Hoagland

I would love your power point presentation for this lesson. Thanks Jenni
[email protected]

Hamish Pike

Hi, would you please be able to email me the powerpoint of this lesson too please. my email address is [email protected] - Thank you very much.

M. Magner

Could you send me a powerpoint of this lesson. My email address is [email protected]
Thank you.

Lelia J. Lockett
Meaghan Garrity
Antoine Reed

Could you please send me a copy of the powerpoint... thanks

Stacy Boyle

I would also be interested in the powerpoint to go with this lesson.

Timothy Lee Crawford

Could you e-mail me the powerpoint Reading labels? I would like to try it with my 9th grade class. We are study this unit and would like some hands on activitis to go along with the lesson. My e-mail is [email protected] or [email protected]
---
---