Name of Activity:
Pizza Express
Purpose of Activity:
Students will be challenged with a variety of obstacle courses in 1 PE game. Could be a good intro to an upcoming field day or alternative for using frisbees.
Suggested Grade Level:
3-5
Materials Needed:
60+ frisbees, 1 tire, 4 cones, 4 folding gym mats, 2 hurdles, 2 hula hoops with holders, 1 basketball, 15+ poly spots, 1 scooter, 8 scorecards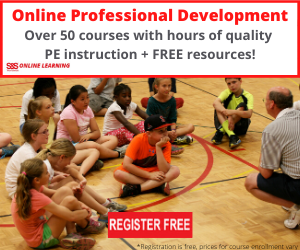 Description of Idea
This Field Day relay activity is for students to learn teamwork and use basic locomotor skills. Each team begins on 1 of 8 stations. I suggest 8 stations to keep the groups smaller but 4 or 5 stations could be used as well. The events begin on one sideline of the basketball court if inside and in the parking lot if outside. The events and are evenly spaced, while the other sideline is the pizza parlor where the frisbees are scattered. When the signal is given, the 1st person in each group must proceed through the obstacle on their particular course to the pizza parlor. They pick up one pizza and hold it with one hand with their palm up like a server at a restaurant. They will attempt to deliver it back to their team without dropping it, while completing the same task they did on their way to the parlor empty-handed. Then the next person in line goes. The goal is to deliver as many pizzas as possible in about a 3 minute time frame. If a pizza is dropped, they will just pick up their pizza and continue on. When the delivery is successful, they place it by the front of their team line. When the whistle has blown, the parents/teachers will record the number of delivered pizzas on their scorecard and another player or two to bring the frisbees back to the pizza parlor to set up for round two. Then each team rotates to the next station. Parents/Teachers will be at each station to observe & make sure the kids are doing the correct skills and assist recording. Here are the 8 stations:
1. Tire roll - A tire is rolled down to the sideline while skipping. They return back skipping again while holding a pizza.
2. Head balance - Players sprint down to the pizzas, pick one and balance it on their head on the way back.
3. Messy clean up - Four cones are placed in a zig zag formation. A player will gallop while zig zagging around the cones to the end. On their return, they will zig zag back while holding their pizza.
4. Basketball dribble - Dribble the basketball down, pick 1 pizza and dribble back while holding the pizza.
5. Hot lava - 4 folded gym mats are laid 3-4 feet apart. They are the rocks while the gym floor or playground is hot lava. Students leap from mat to mat, pick a pizza and return leaping from mat to mat while holding the pizza upright.
6. Hurdles & hoops - Students jump over hurdles and crawl through hula hoops standing in a hula hoop holder. They return holding their pizza upright going over the hurdles and through hoops.
7. Poly spot maze - Students jump on one foot for each spot and two feet when spots are side by side (similar to hopscotch). Return on the spots while holding their pizza.
8. Scooter ride - One student pushes another on a scooter. The pusher picks a pizza and the rider carries it while being pushed back.

Variations:
For a less competitive activity, do not keep score.
Assessment Ideas:
Remind the students to hold the pizza upright so the cheese and toppings don't slide off. If someone does not hold the pizza the correct way, the teacher may remove one of their delivered pizzas from their pile.
Submitted by Dave Bieker in Aurora, IL. Thanks for contributing to PE Central! Posted on PEC: 12/11/2009. Viewed 36168 times since 9/9/2009.
Pizza Express

---
Previous Comments:
There are currently no comments to display. Be the first to add a comment!
---
---