Name of Activity:
Around the World - The Seven Continents
Purpose of Activity:
To enjoy a day of fun movement activities while integrating geography and social studies.
Suggested Grade Level:
K-2
Materials Needed:
Cones, Spray paint, 2 snow sleds, putters, golf balls, coffee cans, cardboard golf course obstacles - Eiffel Tower, Leaning Tower of Piza, Big Ben, canopy for shade, folding table, water, cups, ice, snacks.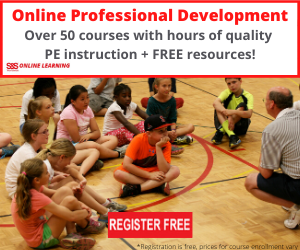 Description of Idea
Over an hour and a half time, students will participate in a fun physical activity with a geographic theme.
Each class (We had 7 in the am and 7 in the pm) is assigned to begin at one of seven stations. Each with a theme of a different continent. The students will rotate as a class from station to station every 10 minutes with 2 minutes alloted for travel time. The stations are run by the art, music, speech, counseling, occupational therapy, physical therapy staff. Physical Education staff will oversee each station and troubleshoot as needed. Parent volunteers are also welcome to assist at each station.
North America- snack tent
Activity Instructions: Students will receive snack and water and cool down in the shade.
Equipment Needed: canopy, folding table, chairs, 2 bottles of Leisure time water, cups, napkins, ice, coolers, Ziploc bags, ice pops.
Antarctica-Dog Sled Races
Activity Instructions: The class will be divided into two teams. One student will sit in each sled at the starting line. Two students will pull the sled down to the finish line. If the student falls off the sled, they have to start over. A staff member will spot the student in the sled to ensure safety.
Equipment Needed: 4 Cones, spray paint, 2 snow sleds, clothesline
Australia-Kangaroo Hop
Activity Instructions: Students will be in a relay format. The students will hop and then do a high five to the next student in line. The first line to finish first wins.
Equipment Needed: 2 Water balloon sling shots, Water balloons, large kangaroo cut out that is laminated. We made the kangaroo out of cardboard.
Europe-Mini Golf
Activity Instructions: Staff and students will take turns going through the miniature golf course in the shapes of these out of The Leaning Tower of Piza, The Eiffel Tower and Big Ben. We made these out of cardboard.
Equipment Needed: Putters, golf balls, coffee cans, and cardboard obstacles
Asia-Dragon Race
Activity Instructions: The class is first divided into two lines. The first student in each line will start with a cup. On the signal the student will run to the opposite end of the field where 2 large buckets, decorated with dragon masks and tails, and filled with water sit. They will fill their cup with water from the large bucket of water. Then run across the field and fill the smaller empty bucket with their cup of water.
Equipment Needed: 2 large buckets, 2 smaller buckets, cups, 2 dragon masks, 2 dragon tails,
Africa-Relay Race
Activity Instructions: A track will be set up and 4 students will stand on the corners. The first student will run to the second student and pass the baton. That student will then run. The race ends when all students have run.
Equipment Needed: Spray paint, batons, cones
South America-Fish Toss
Activity Instructions: One student stands on one side of the filed with the net. Another student stands opposite them with fish. One student tosses the fish underhand and the other tries to catch it in the net.
Equipment Needed: Nets, Fish, Cones, Spray paint

Submitted by Ashlea Prouty who teaches at White Sulphur Springs Elementary School in Liberty, NY. Thanks for contributing to PE Central! Posted on PEC: 5/6/2009. Viewed 41536 times since 4/13/2009.
Around the World - The Seven Continents

---
Previous Comments:
There are currently no comments to display. Be the first to add a comment!
---
---