Name of Activity:
Snack Attack
Purpose of Activity:
The purpose of this activity is to provide an understanding of the relationship between calories in (snacks) and calories out (exercise).
Prerequisites:
Proper instruction on the technique of exercises chosen for your "Snack Attack"
Suggested Grade Level:
6-8
Materials Needed:
Snack wrappers with exercise sheets attached with the calorie equivalent of exercises for the amount of calories in the snack. Exercise equipment such as step boxes, agility ladders, jump ropes, sit up mats, medicine balls, weight bars etc.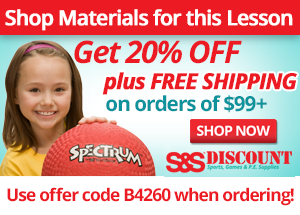 Description of Idea
Before beginning the activity discuss with the students about calories in vs. calories out relationship and gaining weight. Then discuss how much exercise is equivalent to a number of calories within a snack.
When you are finished with the discussion, describe the "Snack Attack" activity to the students. In a box place a variety of snack wrappers with workouts attached that reflect the caloric value of that snack. Utilize a variety of exercises such as jump rope, jumping jacks, box step ups, weight bar exercises, medicine ball exercises, push ups, and sit ups. Have the students partner up with someone else in the class and choose a snack and proceed with the workout. Once one "Snack Attack" has been completed collect the snack wrapper and workout, then choose a new snack and continue.

Assessment Ideas:
Begin with low calorie snack workouts one day and challenge the students to complete higher calorie snack workouts the next time you use "Snack Attack"
Teaching Suggestions:
I used common snacks that the students eat via the vending machines or at lunch at our school. Using snacks that are eaten every day made the lesson more significant to my students.
Submitted by Kristal Kostiew who teaches at MSA West Academy in Plaquemine, LA. Thanks for contributing to PE Central! Posted on PEC: 11/2/2012. Viewed 132292 times since 4/7/2009.
Snack Attack

---
Previous Comments:
AHicks

What a great idea! I plan on using my fitness pal app to figure out the amount of calories burned. Great job!

celizabeth

i am going to use this game in a gym meaning that the equipment will count the calories but thanks for a great idea I am using it for my a level course

Leanne Usher

I love this idea. Do you have any suggestions on how I would determine what calories each of the activities will burn?
Thanks :)

Ingra

Here is a simple tool where you enter how many calories you need to burn: http://www.healthassist.net/calories/

Just put the approximate average weight of your students.

The kids LOVED this activity!!

Mark

Calorie burned calculator and other tools.

http://www.weather.com/outlook/health/fitness/tools/calorie

ann

I too am looking for a calorie/snack sheet so I know what exercises to do

Barbara

Sounds like a GREAT activity...but like Doug, I am wondering what you used to indicate "how much exercise is equivalent to a number of calories within a snack?" Did you use a chart? What about students' size differences?

Doug Harbin
Bob

I LOVE THIS GAME. WOOOO.! i love to eat.
---
---