Name of Activity:
Treasure Hunt
Purpose of Activity:
To practice dribbling skills.
Prerequisites:
Prior dribbling experiences. Students should be at the Control level or higher of the GLSP.
Suggested Grade Level:
K-2
Materials Needed:
One ball that can be dribbled per child, more poly spots than children, five large posters with a different shape on each poster (i.e., heart, square, star, apple, circle, frog), matching shapes (treasures) that can be hidden under poly spots, five hoops (one under each poster).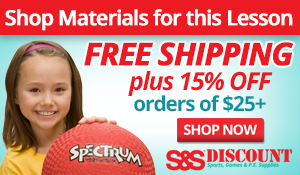 Description of Idea
Students travel (traveling movements depend on students' skill levels but it is always good to start with walking) around the activity area dribbling the balls. Each student chooses a poly spot, dribbles the ball ten times while standing on the spot, then looks under the spot to see if a "treasure" (shape) is hidden underneath. If a "treasure" is found the student picks up and carries the "treasure" while dribbling the ball until coming to the matching poster. The child places the "treasure" into the hoop under the matching poster then dribbles to another poly spot to repeat the process. If a "treasure" is not found the student travels to a different poly spot to repeat the process.
Assessment Ideas:
Ask student to analyze their dribbling while answering the following questions based on appropriate cues:
1. Which part of your hand did you use to dribble the ball?
2. How high did you dribble your ball?
3. Did you bump into anyone? Why? Or why not?
4. Did the ball get away from you? Why? Or why not?
Teaching Suggestions:
The students can play as described above, or they can be challenged to see how many shapes they can find in a certain amount of time. Another way to play is to assign students a specific shape to look for which will make it more of a team game.
---
Submitted by Estel Sampelayo who teaches at SJ Preston Elementary School in W. Harrison, NY. Additional authors for this idea were Jennifer Burkhardt. Thanks for contributing to PE Central! Posted on PEC: 5/10/2009.

Viewed 81418 times since 3/31/2009.
---
---
Previous Comments:
There are currently no comments to display. Be the first to add a comment!