Name of Activity:
Aquatics Goals
Purpose of Activity:
For students to differentiate for themselves some individualized goals for the aquatics class and assess themselves weekly to see if they are achieving the weekly goals.
Suggested Grade Level:
9-12
Materials Needed:
Semester Goal Packet,
Weekly Goal Sheet
,
Semester Goal Sheet
,
Stroke Evaluation Sheet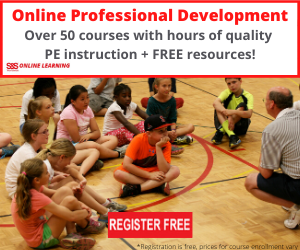 Time Needed to Complete:
5-10 minutes at beginning of week and 24 minutes a day to practice the activities to acheive the weekly goals.
Description of Idea
The students will set a semester goal during the first week of class after performing a skill assessment. Stating the semester goal at the top of the page every week, the students fill out a weekly goal to achieve by the end of the week. Each goal has 3 activities that the students immediatley start when class begins. Each activity lasts 8 minutes. On the last day of the week the students give themselves a pass/fail grade if they achieved the weekly goal. If they did not receive a passing grade from themselves, I recommend they repeat some of the same activities for the following week. This helps when there is a large range of skills in the aquatics class.
I have a student that swim's for the swim team but can still set a semester goal to achieve. I have another student in the same class who couldn't breath underwater and has a semester goal for his own level to acheive so essentially every student improves themselves greatly by the end of the semester.
Scoring Rubric:
Self Assesment Weekly Pass/Fail according to acheiving the goal: Pass/Fail according to the way they performed the 3 swimming activities to acheive that goal.
Submitted by Christine Bodine who teaches at Lafayette Senior High School in Chesterfield, MO. Thanks for contributing to PE Central! Posted on PEC: 10/5/2008. Viewed 21777 times since 9/19/2008.
Aquatics Goals

---
Previous Comments:
There are currently no comments to display. Be the first to add a comment!
---
---