Name of Activity:
Picture Protocols
Purpose of Activity:
For visual learners to see pictures of peers practicing correct protocols in class.
Prerequisites:
Students should already be familiar with the correct protocols.
Suggested Grade Level:
K-2
Materials Needed:
Camera, poster board, access to a laminating machine.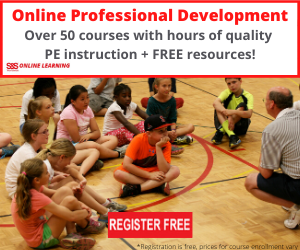 Description of Idea
Take pictures of students practicing correct protocols in the gym. For example, students walking to put equipment away, or walking to self space, lining up, or where to stand to begin the instant activity. Try and take a protocol picture for each grade level, so the students are able to see themselves or classmates.
Glue the pictures to poster board and laminate it. After allowing all classes to view it, hang it in the activity area for the remainder of the year.
Assessment Ideas:
Show poster to the students for one minute, then have them write down as many protocols as they can remember.
Teaching Suggestions:
If done after the students come back from winter break, it can help remind them about what you expect in the gym.
A separate piece of poster board can also be used for each protocol, with pictures from the various grade levels showing that one protocol glued to it. These can then become a useful tool for students who continuously "forget" a specific protocol...they have to find the picture, identify the protocol, and verbalize what they need to do in order to perform this protocol correctly.
Before photographing students, you may need to obtain permission from parents in order to do this. Ask your building administrator if a blanket permission form had already been sent by the school or if one could (or needs to be) used specifically for physical education purposes.
Submitted by Shawn Fortner who teaches at Back Creek Elementary School in Roanoke, VA. Thanks for contributing to PE Central! Posted on PEC: 8/17/2015. Viewed 49751 times since 8/24/2001.
Picture Protocols

---
Previous Comments:
There are currently no comments to display. Be the first to add a comment!
---
---