Name of Activity:
Jumping Rope
Purpose of Activity:
This rubric is used to assess each student's skill achievement during our jumping rope unit.
Suggested Grade Level:
K-5
Materials Needed:
Short jump rope for each student,
Jump Rope Rubric Sheet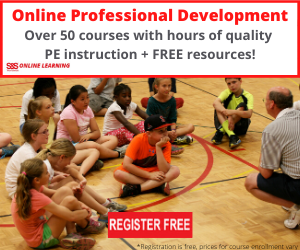 Description of Idea
The students are rotating through jump rope stations. The rubric is used by the teacher as a grading tool. The teacher observes each student individually while they are rotating around the gym and gives them a mark based on their skill achievement.
About the Rubric: Designed for grades K-5. The rubric is based on five jumping rope skills for grades 3-5 and five basic jumping and landing skills for grades K-2. The grading scale is based on a total of 5pts. 5 being a master and 1 being a beginner. This scoring rubric is used on the last day of our jumping rope unit (depending on class time, normally day three).
View/Print the Jump Rope Rubric
Submitted by Kristin Donley Dundon who teaches at Mt. Vernon & MacArthur Elementary School in Alexandria, VA. Thanks for contributing to PE Central! Posted on PEC: 8/18/2008. Viewed 78236 times since 8/17/2008.
Jumping Rope

---
Previous Comments:
| | |
| --- | --- |
| Sarah Bitsui | I think that as a whole, this concept is very good. I think that the teachers can encourage students to work together to learn new techniques. If it doesn't "click" for one student, but does for others, they can help each other. |
| Gordo | I have a hard time imagining improvement in the unskilled with only 3 days of skipping. |
| Sasha | where is the lesson plan? I cannot see any |
| Theresa Collins | How many successful jumps does the student have to make without missing? |
---
---