Name of Activity:
Small Space Big Track
Purpose of Activity:
To maximize the gym space.
Prerequisites:
Students understand personal pace while jogging for 5-10 minutes and they recognize the importance of social responsibility in large crowds.
Suggested Grade Level:
3-5
Materials Needed:
Cones and ropes,
Diagram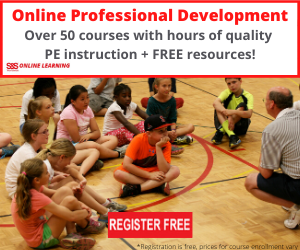 Description of Idea
Do your students run on a tiny track? Utilize your gym better by having the kids run up First Street, down Second Street, up Third Street, down Fourth Street and around the end of the gym back to First Street.
Cones are used to divide the gym into 4 lanes. String ropes in between the cones. ( I like to place a small cone on top of a large cone to pinch the JR handle in between.) Leave plenty of room next to the walls so students can easily make the turn. Best of all--you can't tell whose in first-second, etc.
Assessment Ideas:
Encouage the students to see how hard they are working by taking their heart rate and comparing it to the training zone for cardio improvement.
Teaching Suggestions:
Student helpers are assigned each week to support students needing assistance.
Submitted by L Hempel who teaches at Cherry View Elementary in Lakeville,, MN. Thanks for contributing to PE Central! Posted on PEC: 6/6/2008. Viewed 45970 times since 4/10/2008.
Small Space Big Track

---
Previous Comments:
| | |
| --- | --- |
| Drew | Hi, I'm new to this whole instructing kids thing. I'm with a program at a YMCA that goes to different schools each week and teaches them about healthy lifestyles. For instance, one week we will cover fruits and the next vegetables. I was wondering if any of you guys had good games for such topics. Thanks for any feedback! |
| Linda | Thanks for your comments. So glad to share little tricks. I will post our heart rate training zone poster as another submission to PE Central. Kids take HR via a 10 second count in the carotid artery starting in 1st grade. |
| Winkie Schoew | I really like this for those rainy days when we can not get outside to jog. How are your students checking their heart rate and what "training zone" do you use? |
| Danny G. | In my fourth year of teaching, and moving from large outdoor spaces in Fl., to small gym spaces in the north east. I love the idea for using this much smaller space. P.S., I didn't think of using the small cone to pinch the JR handle. I've used the rope/cone idea for every imaginable application from JRFH to Family Fun night - spending countless minutes readjusting the ropes. Thanks for the idea. |
---
---