Name of Activity:
Fun at the Beach
Purpose of Activity:
Teamwork, agility and fun.
Suggested Grade Level:
K-2
Materials Needed:
large parachute, beach balls, inflatable limbo set (oriental Trading), soaker hose, small swimming pool, assorted marbles, hula hoops, inflatable palm trees (Oriental Trading), either foam boogie baords or large foam flip flops (Oriental Trading), large and small buckets, large car sponges, pinwheels, spray bottles, hurdles, half hoops, cones, inflatable tiki poles (Oriental Trading), balance rope, water, water hoses.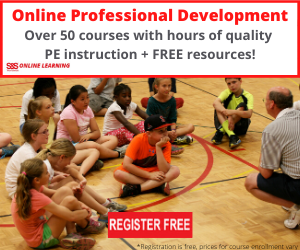 Description of Idea
We hold our Field Day all on one day with half of the students going from 10:00am-12:00pm (320) and the other from 1:00pm-3:00pm.(320) All of the students eat sack lunches with their class from 12:00-1:00 either in their classrooms or outside. The teams are made up of two classes and two teachers (44 students/ 2 teachers). There are 8 stations with 15 minutes spent at each station. The PE teacher sounds an air horn when it is time to move to the next station.

Fun at the Beach Stations:
1. Beachball Volley- large parachute 30" and several inflatable beach balls and fish (challenge the group to keep the balls on and then to get them all off of the parachute)
2. Tiki Trail (Obstacle Course)- two teams race as they maneuver through the course which is made from cones, hoops, hurdles, half hoops, balance rope, inflatable tiki poles and a hamster cage.
3. Tropic Toss- (4 teams)- Take turns tossing a hula hoop around one of the 4 inflatable palm trees (Frisbee throw as an option using hoops as targets).
4. Flip Flop Relay- (4 teams)- Either one at a time or in partners hold the large flip flop over their head as they run up and around the cone and back. (foam boogie boards as option).
5. Luau Water Limbo- (2 teams) Take turns going under the inflatable limbo sets placed over soaker hoses.
6. Underwater Treasures- (4 teams) Take turns running to the small swimming pool, sticking their toes into the water and grasping a variety of marbles with their toes and placing them in sand buckets
7. Sea Sponge Race-(4 teams) Dip the sponge into the bucket of water and pass it overhead to the end of the line. The last person in line then carries the sponge back to the front and begins again.
8. Ocean Spray-(4 teams) One at a time each student runs up, picks up a spray bottle filled with water, kneels down and aims water at a pinwheel making it turn. (I found a variety of sizes of pinwheels at the Dollar Store)
I always spend a few days practicing the games with the students before field day so they know what to do on the big day. I burn beach, Hawaiian music on a CD prior to the event and play music to give it the "mood".
Submitted by Sherry Rose who teaches at Memorial Elementary in new braunfels, TX. Thanks for contributing to PE Central! Posted on PEC: 5/13/2007. Viewed 90783 times since 3/29/2007.
Fun at the Beach

---
Previous Comments:
| | |
| --- | --- |
| Prof. S | Looks fun and interesting! Lovely idea! I'm eager to try it! |
---
---