Name of Activity:
Dribbling Beanbag Transfer
Purpose of Activity:
To have students work on their hand dribbling control.
Activity cues:
Eyes Up, Keep the ball at a medium level, Finger pads
Suggested Grade Level:
3rd and Up
Materials Needed:
Balls that students can successfully bounce, 1 beanbag for each student, 1 hoop for every student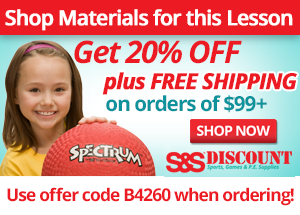 Description of Idea
Have students get a ball to dribble, a hoop, and a beanbag. Tell them to find a good self space in the playing area and then put their beanbags in the middle of their hoop which will be on the floor in front of them.
On the teachers signal, the students, while dribbling their ball, go throughout the room picking up one beanbag from hoops and then they are to take them and drop them in the center of hoops that are unoccupied. Each student can only transfer one beanbag at a time.
If they choose to, students can keep score by counting how many successful beanbags they transfer in a given amount of time. Students cannot dribble the ball inside the hoops. Make sure students don't throw the beanbags. They are to drop them into the center of the hoop.
Variations:
Have students use only their favorite hand to dribble with.
Have students dribble while switching the beanbag from one hand to the other.
Submitted by Sharon Welch who teaches at Potowmack Elementary School in Sterling , VA . Thanks for contributing to PE Central! Posted on PEC: 3/17/2001. Viewed 92883 times since 8/24/2001.
Dribbling Beanbag Transfer

---
Previous Comments:
There are currently no comments to display. Be the first to add a comment!
---
---