Name of Activity:
Narnia Tag
Prerequisites:
Knowledge of chasing and fleeing, dodging skills, ability to tag someone safely, running and freezing in place.
Suggested Grade Level:
3-5
Materials Needed:
One wand for the White Witch, one yellow jersey for Aslan the lion, one scarf, music (I used was the soundtrack/score from The Chronicles of Narnia, The Lion, the Witch and the Wardrobe).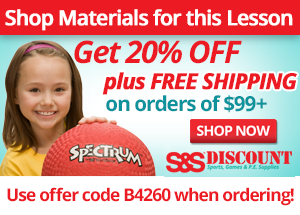 Description of Idea
The teacher chooses one person to be "it"--they are the White Witch from the book/movie The Lion, the Witch, and the Wardrobe. When the music starts, they carry a wand and attempt to tag as many people as they can (start them by walking, sliding, etc.) by touching them with their wand. Once a person has been tagged, they are "turned to stone" and must remain frozen until Aslan touches them with the scarf. The scarf represents Aslan's breath because in the movie whenever Aslan breathes on someone that the witch has turned to stone they return to normal. Students must perform the locomotor skill that the teacher announces. Change positions and locomotor skills often.
Variations:
Add wands to increase the number of people that are it, and/or add scarves to increase the number of people that can return those made of stone to normal
Assessment Ideas:
Informal assessment: Ask students what they needed to do to avoid being tagged (chasing and fleeing skills).
Submitted by Tisha Owens who teaches at Lawsonville Ave. Elementary School in Reidsville, NC. Additional authors for this idea were Lauren Denny. Thanks for contributing to PE Central! Posted on PEC: 12/19/2018. Viewed 27723 times since 1/18/2006.
Narnia Tag

---
Previous Comments:
There are currently no comments to display. Be the first to add a comment!
---
---