Name of Activity:
Whistle While You Work
Purpose of Activity:
The purpose of this activity is to have an organized and fair way to involve students in the clean-up and set-up of equipment.
Prerequisites:
Students need to be organized into color groups. Set up the groups at the beginning of the school year.
Suggested Grade Level:
3-5
Materials Needed:
Ellison Die-Cut Machine (Whistle) or cut-out shapes of your choice, construction paper, laminator, magnet to hang the whistles or other cut-out shapes.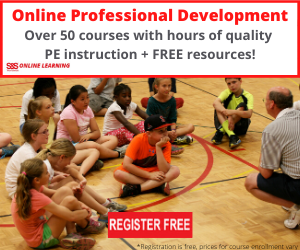 Description of Idea
Students are organized into four color groups (red, orange, blue, and green). Use this system for grouping students in activities and for student seating at the beginning of a lesson. On the chalkboard in the gymnasium, have four laminated whistles made of construction paper colors that match the color groups. These whistles are held up by a magnet clip so that one color can be seen at a time. Every "A" day (we operate on a six day cycle) change the color of the whistle that is showing. If the color of the whistle matches a student's color group, it is that group's turn to help with equipment. Students receive two turns in a six day cycle. These students are responsible for putting away our warm-up equipment and setting it up for the next class, since the classes are sometimes scheduled back-to-back. Our warm-up uses a considerable amount of equipment organized into different buckets and a jump rope tree. Students are wonderful and they always want to help! You will find that this system works well because it allows the students to be responsible and it is a fair way of determining who my helpers are.
Adaptations for Students with Disabilities

Whistles can be made with the name of the color on the whistle as well so that those who may be color blind can know what color is displayed.
Submitted by Margaret Robelee who teaches at North Park Elementary in Hyde Park, NY. Thanks for contributing to PE Central! Posted on PEC: 4/14/2004. Viewed 25485 times since 1/29/2004.
Whistle While You Work

---
Previous Comments:
There are currently no comments to display. Be the first to add a comment!
---
---