Name of Activity:
Buckets
Purpose of Activity:
The purpose of this game is for younger children to gain the skills of gathering and collecting. Also, it is used to stimulate the children's heart rate as a warm up activity. In addition to collecting and gathering, children are also using locomotor skills. Also incorporated in this activity are the skills learned in their other classes. Children are working on their recognition of colors and they are learning body control. The unique and special purpose of this game is that it incorporates many skills from many classes, it stimulates the heart but also maximizes participation and includes every student in the class. No one is left out and there is no winner.
Prerequisites:
The children involved in "Buckets" must have prior knowledge of their primary colors.
Suggested Grade Level:
K-2
Materials Needed:
Four different colored construction paper (blue, green, red, yellow). Four different colored buckets (same colors as buckets). Besides the primary materials an open space large enough to hold the amount of students in your class is required for a safe environment.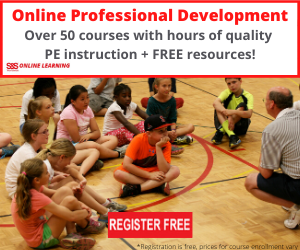 Description of Idea
Four different colored, rolled up, pieces of construction paper (how many pieces of paper varies with the amount of students in class) will be places in a bucket. The teacher dumps the pieces of paper out into the circle in the middle of the gym (circle or several hoops). The students will then begin playing "Buckets" after the teacher has dumped the paper. The students must run, skip, gallop, crawl, under control, to the paper. Teacher or students can select the movement. They grab one piece of colored paper and run back to place that paper in the corresponding colored bucket. This continues until all the paper is gone from the circle or hoop in the middle of your playing area. The clock does not stop till everyone's finished.
Rules:
* One piece of paper at a time
* Under control at all times
* Be respectful of other students
* No stealing a students paper
* HAVE FUN!!!
Assessment Ideas:
* Observe if students are moving under control and using the appropriate locomotor skill.
* Are children properly placing the colored piece of paper in the corresponding bucket?
Adaptations for Students with Disabilities

* Wheelchair children could use scooters or crawl if appropriate.
* To adapt to the level of a wheelchair could involved using larger or small buckets also.
Submitted by Thomas Cassidy who teaches at East Stroudsburg University in East Stroudsburg, PA. Thanks for contributing to PE Central! Posted on PEC: 1/30/2004. Viewed 107451 times since 10/6/2003.
Buckets

---
Previous Comments:
| | |
| --- | --- |
| Mike | This is also extremely effective in th 3-5 year old range, thanks! |
---
---