Name of Activity:
Dare Base
Prerequisites:
Students need to understand what a base is and how to move to open spaces.
Suggested Grade Level:
3-5
Materials Needed:
12 Cones to mark safe areas (bases), 4 soft swatters/big hands/gator skin balls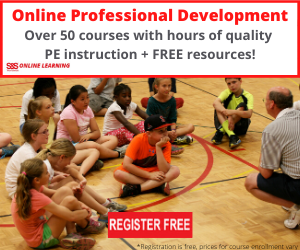 Description of Idea
Choose 4 students to be "it". Those students that are "it" hold either soft swatters, big hands or gator skin balls to "softly" tag the other students with. Once everyone understands the activity, the rest of the students (those that are NOT "it") run from base to base. The bases (cones forming an area) are marked in grassy area by making 3 different squares using the cones. Adjust the size of the safe areas (bases) as needed.

Students can go to a base anytime they want to, though they cannot return to that base until they have touched another base. A student is safe, if they have one foot inside the base.
If one of the students that is "it" tags a student, then the student that was tagged has to do a pre-determined exercise (Jumping Jacks, kicking a ball into a target, bouncing a ball X # of time, push ups, curl-ups, etc.) before re-entering the game. An area for the exercises should be designated. One way to learn student names is to have them come to you and tell you their name and then do the exercise.
After 2-3 minutes choose new students to be "it".
Assessment Ideas:
Teachers may informally assess individual student skill level on locomotor skills, levels, directions, pathways, etc.
Teaching Suggestions:
-use a variety of locomotor activities (running is not always best)
-change levels, pathways, directions
-challenge students to count the number of times they can make it to bases which may discourage standing on one base for too long
-substitute other skills (bouncing a ball) for exercises
-vary number, size, and distance of bases
-restrict the number of students that can be on bases at one time
Submitted by Nancy Wilsey who teaches at Northpoint Elem. in Bloomington, IL. Thanks for contributing to PE Central! Posted on PEC: 9/2/2003. Viewed 26617 times since 6/16/2003.
Dare Base

---
Previous Comments:
There are currently no comments to display. Be the first to add a comment!
---
---