Name of Activity:
Monster in the Forest
Purpose of Activity:
To mantain ball control while using their fingerpads to dribble around general space, and keep the ball at waist level.
Prerequisites:
One or more prior lessons with using one's fingerpads to dribble with control is necessary. Students should also be able to dribble with control while standing still, and have had experience dribbling while moving slowly in different directions.
Suggested Grade Level:
1-2
Materials Needed:
Variety of colored playground balls (one for each student); cones.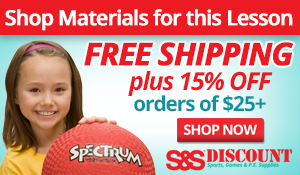 Description of Idea
Review how one should use the fingerpads to dribble a ball with and keep the ball at waist level. Tell students they will be playing a game today that uses a story to tell them what to do.
Have students line up, spread out, on a line on one end of the gym (playing area). Each student has a ball. Cones are scattered in the area between the line students are standing on and the other end of the gym. Students are told this short story and react to it as it is told:
"In front of you lies a great forest full of trees, plants and shrubs. We are going to take a hike through the forest with our berry balls. We must dribble our ball and be sure to watch out for trees (cones) that may be in our path."
The teacher then calls out a color/birthday month, etc., and students with that color on or birthday month move to dribble to the line on the other side of the playing area. Once there, they stand on the line and continue to dribble.
Once all students have mastered maneuvering through the cones add the ending to the story: "In this forest there lives a monster. This monster loves berry balls. So if you dribble too fast, or too high and the ball gets away from you the berry monster will come and munch it up."
The berry monster should be you, the teacher, or selected students (one or two) who will not challenge students, only "munch up" balls which have gotten away from their dribbler. The monster (you) calls the color or birthday month, and attempts to catch any stray balls. If a ball is caught, it is given back to the student, who can continue to dribble to the line. Again, students are standing and dribbling until all are back and they are ready to begin. If students are used for monsters, switch monsters.
Assessment Ideas:
Observe students to see if they are consistently/not using their fingerpads and keeping ball below waist? Are balls continuously getting away from any of the students?
---
Submitted by Lori Stottlemyer who teaches at Fairview Elementary School in Waynesboro , PA . Thanks for contributing to PE Central! Posted on PEC: 5/31/2001.

Viewed 142316 times since 8/24/2001.
---
---
Previous Comments:
Karen
John

Linda children aren't afraid of monsters, its all about how you approach and describe the monsters in the activity. Obviously your not doing it in the correct manner.

N.Gebe

thank you so much for your ideas

Linda

Re: Monster in the Forest.

I have noticed that some children are afraid of monsters and get quite scared when monsters are mentioned. This may not be appropriate for K.