Name of Activity:
Slow Pitch Softball
Purpose of Activity:
To learn how to accurately pitch between 6' and 12'
Prerequisites:
Throwing underhand with control
Suggested Grade Level:
6-8
Materials Needed:
Softballs, hoops, volleyball nets, pencils, & paper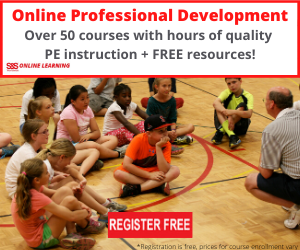 Description of Idea
Set up your volleyball nets and put a hoop on the floor on one side of the net by the service line. On the other side of the net, the pitcher will stand towards that side's base line. You can set up many stations. Be sure the hoops are a safe distance away from each other.

Have students work in pair. Each student will underhand pitch so the ball goes over the net but lands inside the hoop. The net should be set up to a height around 8' to 10' to allow the pitcher the feel of slow pitching height.

Have students take turns pitching. I suggest 5 throws each and then rotate. One student acts as the catcher and either rolls or throws the ball back to the pitcher using safety rules for your teaching space.

Assessment Ideas:
Add a third student to each group to perform skill checks using a checklist for the underhand pitch.
Teaching Suggestions:
Students can turn this into a game by alternating turns pitching. The object is to throw three strikes (ball landing in or on the hoop) before throwing four balls. Students take turns pitching either one out or one walk, then switch.

Lower the net or move the hoops to desired distance for success.
Adaptations for Students with Disabilities

Have a variety of balls for students to use.

Have nets and hoops of different heights and sizes.
Submitted by Toni-Ann Murphy who teaches at Herbert Hoover Middle School in Edison, NJ. Thanks for contributing to PE Central! Posted on PEC: 12/29/2001. Viewed 109191 times since 8/24/2001.
Slow Pitch Softball

---
Previous Comments:
Rosana Marum

I'll try it for my next unit (softball), it's sound great drill for beginners

angie

very nice!!! very helpful for teachers like me!!!

MJfan4ever

this si a nice game sounds fun

Christine

nice idea im a student and we have a group activity i just might choose this!!!!!!!!!!!!!!!!!!!! :) they want us to pick out 2 games for our class to play so i might choose this thx

COSMO

Nice lesson plan Mrs. Murphy! Good idea!

Softball Babe2

this is a very good way for the girls to warm up. And they enjoyed it too. I would recomend this to all coaches or parents of a daughter thatv is in slowpitch softball. My softball team loved it. They had so so so much fun.:)

Joe

great innovative idea
students enjoyed the challange
---
---