Name of Activity:
Ghostbusters (tossing & catching scarves)
Purpose of Activity:
Practice throwing and catching by developing a variety of tricks with the scarves. For students to create their own "ghostbuster trick" and teach it to another student.
Activity cues:
Watch the Scarf
Prerequisites:
Students should be familar with tracking an object.
Suggested Grade Level:
PreK-2
Materials Needed:
One scarf for every student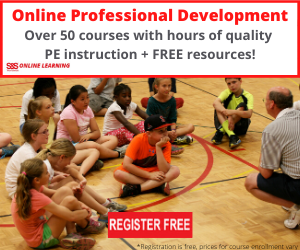 Description of Idea
Students sit in a circle while you introduce your friend for the day-- "ghost buddy." Demonstrate various tricks and have student do them with you:
"Ghost, Ghost fly up high... BOOOOO catch" (Throw scarf into air and catch).
"Ghost, Ghost fly to my other hand catch" (Throw with one hand, catch with the other).
"Ghost, Ghost fly, twirl catch" (Throw scarf into air, turn around and catch).
"Ghost, Ghost, fly, touch my head catch."
After providing the above examples ask children to create their own "ghost trick." Ghostly music playing in the backround adds to the activity. As students develop their own tricks, ask them to share the variety of "ghost tricks."

Assessment Ideas:
A checklist may be helpful to assist in answering the following questions.
Are children able to track the scarf?
Are they able to create their own trick?
Are they able to demonstrate their trick to a friend?
Teaching Suggestions:
If children are having trouble throwing the scarf into the air, ask that they hold one corner of the scarf and hold the scarf down low by their knees, raise their hand quickly overhead and release the scarf.
Adaptations for Students with Disabilities

Scarfs are excellent to use for children with disabilities as they are easily caught by children of all skill levels. Since children are creating their own trick they can be successful in whatever creation they come up with.
Submitted by lauren lynch who teaches at Rodeph Sholom Day School Thanks for contributing to PE Central! Posted on PEC: 10/7/2001. Viewed 119544 times since 8/24/2001.
Ghostbusters (tossing & catching scarves)

---
Previous Comments:
| | |
| --- | --- |
| Tim | I used this as a halloween type activity. The kids loved it. It was a great way to work on catching skills. Towards the end of the activity i let the children make their own "tricks" for their ghost. It went well good lesson. |
---
---