Name of Activity:
Dribble Frenzy
Purpose of Activity:
To reinforce and review the dribbling skills taught in previous class lessons and to have students compare their ability to dribble with different types of balls.
Prerequisites:
Students should have received instruction in appropriate cues: use of finger pads, bounce the ball below waist level. Students should also be able to use pathways for avoidance of others and unsafe objects in all directions.
Suggested Grade Level:
1-3
Materials Needed:
Six of each of the following: hula hoops, junior basketballs, soccer balls, basketball-size nerf balls, vinyl balls, softballs, rag balls, wiffleballs, cones, laminated cue-signs; cassette/CD player and CD.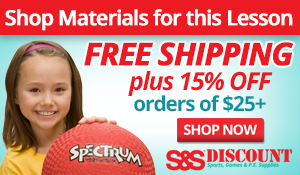 Description of Idea
Before class, arrange six hula hoops around the perimeter of the playing area (one in each corner and two at the midline). Place the same six pieces of equipment in one of the hula hoops. Place a traffic cone near each hoop with a laminated sign noting one of the dribbling cues taped on it; this should remind students of a dribbling cues to use.
Review the dribbling cues learned in earlier lessons; explain to students that they will get to use these cues when dribbling many different type of balls, and you want them to pay attention to how easy/hard it is to dribble each one. After explaining the activity as follows, have the class arrange themselves in a self space in the playing area. When the music is playing, the students move safely to any hoop and dribble the ball of their choice around the inside of the playing area until the music is turned off. On this cue, they must replace the ball in the original hoop. When the music again begins, they move to a different hoop to retrieve a different ball to dribble.
Repeat this process until the students have gone to six different hoops and dribbled the six types of balls. When done, bring students in to ask them questions reflecting on their ability to dribble the different balls: Which ball was easier to dribble? Most difficult? Why? How could you explain how to dribble each ball properly? Discuss possible reasons for what students have observed.
Assessment Ideas:
Are students able to recall and/or use the cues presented in class?

---
Submitted by Gerry Cernicky who teaches at Allegheny/Hyde Park Elementary in Leechburg , PA . Thanks for contributing to PE Central! Posted on PEC: 8/16/2000.

Viewed 136479 times since 8/24/2001.
---
---
Previous Comments:
There are currently no comments to display. Be the first to add a comment!