Name of Activity:
Toss Boss
Purpose of Activity:
Coordinating throwing, catching, timing, and movement with self and partner.
Prerequisites:
Traveling while carrying something, general space awareness, working with a partner.
Suggested Grade Level:
3-5
Materials Needed:
Small baskets/laundry, 4-5 different sizes soft items to toss (ex. Ping pong balls, bean bag, tennis ball, foam balls, volleyball, soccer ball, etc...) **ITEMS MUST FIT IN BASKET**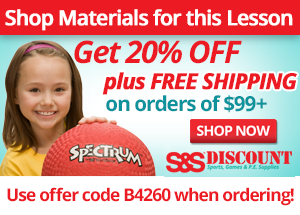 Description of Idea
Students will partner up across from each other in an open area about 20 feet from partner and plenty of space from other sets of partners. Each student will need a basket and each partner set will need 2 of each of the 4-5 different soft items to toss. Students will start with the smallest of their soft items in hand and basket on the ground beside them, on the count of 3 (partners count together) both partners will throw/toss their soft item into the air towards their partner (MUST be high enough for partner to have time to get under it). As soon as each child throws their item they have to bend down and grab their basket to catch their partners item in flight. If one of the partners misses the item they must start over with the same item to toss/throw. If both partners catch the tossed item successfully they move on to the next size soft item. The activity continues with the partners until they have successfully tossed/thrown and caught all 4-5 soft items.

Assessment Ideas:
Assess how well student transitioned from throwing to catching. How well did child travel while carrying basket. How did child adjust to different size and weighted items. How well did child throw in appropriate direction. How did the student interact with their partner. How aware was the child of space. Did the student improve from beginning to end of activity in all areas.

Adaptations for Students with Disabilities

Children with disabilities do not have to travel. Their activity could be stationary. Children could toss items while teacher caught item in basket. Children could catch item in basket while teacher tossed.

Submitted by Heather Smith who teaches at Texas A&M- Commerce in Gun Barrel City, TX. Thanks for contributing to PE Central! Posted on PEC: 11/4/2020. Viewed 15237 times since 7/1/2020.
Toss Boss

---
Previous Comments:
There are currently no comments to display. Be the first to add a comment!
---
---