Name of Activity:
Race Ball
Purpose of Activity:
A small game situation that promotes striking with a baseball bat.
Prerequisites:
The students must have been taught the correct form for batting off of a baseball Tee.
Suggested Grade Level:
3-5
Materials Needed:
5-6 baseball tees, small gator balls 3-4 of each color for each tee, foam baseball bats, poly spots, cones.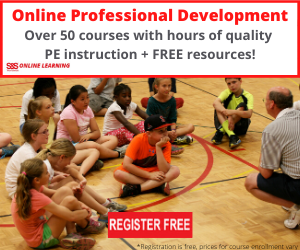 Description of Idea
Create 5-6 baseball batting areas on one side of the gym, placed so students are batting into the open space of the gym. Place a cone line in between each zone. Place poly spots in a line mid way out so that the students know how to rotate (outfield players). One batter is at the tee. They place a gator ball on the tee and hit it. After they swing they place their bat on the ground and then immediately run to the opposite wall of the gym. The outfield players move and retrieve the ball, they then throw the ball at the back wall. If the runner touches the wall before the ball they get a point. If the ball touches the wall before the runner, the runner is "out" and doesn't get a point. Switch batters after each hit. If the batter throws the bat they are automatically out.
Assessment Ideas:
The teacher should observe the batters to make sure they are using the correct form. Monitor for safety as well.
Submitted by Wendy Hunter who teaches at DeMiguel Elementary School in Flagstaff, AZ. Thanks for contributing to PE Central! Posted on PEC: 5/22/2019. Viewed 23444 times since 5/2/2019.
Race Ball

---
Previous Comments:
There are currently no comments to display. Be the first to add a comment!
---
---