Name of Activity:
Fast Food
Purpose of Activity:
Help students identify healthy food vs. unhealthy food and recognize the benefit of making healthy food choices.
Suggested Grade Level:
3-5
Materials Needed:
Hula Hoops (10-12) Play Food (@225 items) - Using a Sharpie, make sure each food item has a number (Healthy= 10 points, Somewhat healthy= 5 points, Unhealthy= 1 point) Dry Erase Boards (or notebook paper) for scoring MyPlate models (from the cafeteria manager- we used 4)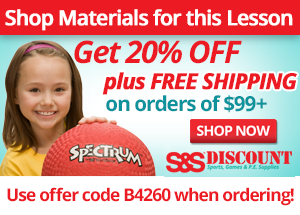 Description of Idea
Intoduction-
Say "You have to fuel your body the right way to be healthy and to just feel good. It will keep you from getting sick. If you do get sick, you will get better faster. Healthy eating also allows for better play."
Discuss MyPlate in groups. Teacher led Q and A about MyPlate.
Setup-
-The hula hoops ("plates") are placed in a large circle formation on the gym floor
- Separate students into equal small teams. We had 10-12 hoops (so that students get more physical activity time). Make as many teams as you need.
-All the play food is scattered in the middle

Activity-
-Play 1: On "go!" Run out and get food and put it on your plate until all the food is gone
Self Score
"What do you notice about the score of each food item?"
-Play 2: Play again (if time allows to re-scatter the play food in the middle)
Have students place food back into the open area
Self Score
"What was your team trying to do this second round?"
FAST FOOD GAME
-Play 3: Fast food Setup: students, keep the food on their "plate" (do not re-scatter)
-On "go!", Students take their least healthy food (lowest scoring food), run and place it on another team's plate and take that team's healthiest food item (highest scoring food) back to their plate before the next person goes.
-Game can be played for 2-3 minutes.
-Score-
-Play Again-
Variations (Dribble Basketball, etc.)

Assessment Ideas:
Closure
Turn your hula hoop into a "MyPlate" and place the items in the correct area.
Submitted by Matt Ransom who teaches at Bartlett Elementar in Bartlett, TN. Additional authors for this idea were Cindy Fowler. Thanks for contributing to PE Central! Posted on PEC: 12/18/2018. Viewed 8100 times since 11/13/2018.
Fast Food

---
Previous Comments:
There are currently no comments to display. Be the first to add a comment!
---
---