Name of Activity:
Hunger Games Tag
Purpose of Activity:
The purpose of this activity is for students to work on moving safely through general space while working on chasing, fleeing and dodging skills. Students will work on these skills during a Hunger Games based tag game.
Prerequisites:
Students should have had prior practice with moving through general space. Students should have prior practice with chasing and fleeing while moving through general space. Students should be accustomed to starting and stoping to a signal.
Suggested Grade Level:
3-5
Materials Needed:
Cones for general space boundaries, two blue pool noodles and two orange gator skin balls or any other soft foam ball (colors can vary and number of noodles/gator skin balls can vary depending on the size of the class).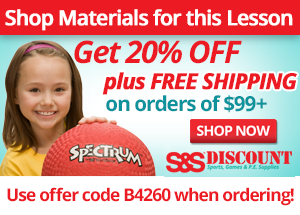 Description of Idea
Students start off in self space in the gym or activity area. All students will represent characters from the Hunger Games movies. Two students are the Game Makers and each have an orange ball. Game Makers are the taggers. The ball represents a fireball. Two other students represent Katniss and Peeta and each have a blue pool noodle. These two students are healers and the pool noodles represent ointment. Everyone else is a Tribute. Tributes are the individuals that participate in the Hunger Games. The Game Makers move around the activity area and try to tag as many Tributes as possible. If a Tribute is tagged by a Game Maker's fireball they have been burned. Burned Tributes stand still where they have been tagged. Katniss and Peeta have the job of putting ointment on the burned Tribute. They do this by touching the Tribute with their noodle. When a Tribute has been touched with the noodle they are back in the game. The game can be played for 1-2 minutes. Each new game choose new Game Makers, Katniss and Peeta.
Assessment Ideas:
Video/digital analysis: taking a video of students chasing, fleeing and dodging would be an appropriate way to assess their use of chasing, fleeing and dodging in this more game type of situation. Students then can watch themselves and self-assess.
Adaptations for Students with Disabilities

If a student is visually impaired the tagger can have a noise maker attached to them so that the student with the visual impairment can hear the tagger.
Submitted by Jeremy Dunham who teaches at Zia Elementary School in Albuquerque, NM. Additional authors for this idea were Maya D. and Gwen A.. Thanks for contributing to PE Central! Posted on PEC: 10/2/2018. Viewed 21466 times since 9/12/2018.
Hunger Games Tag

---
Previous Comments:
| | |
| --- | --- |
| RoRo | This is so cool. I love it. I'm going to use this in my summer school lesson. |
---
---