Name of Activity:
Throwing and Catching a Frisbee
Purpose of Activity:
To teach children how to throw and catch a frisbee. It breaks down throwing and catching technique and also gives them different stations/games through which to practice the skills.
Prerequisites:
Some prior experience holding and throwing Frisbees is helpful before having students complete these stations
Suggested Grade Level:
3-5
Materials Needed:
-Foam Frisbees (one per student)
-4 empty large round plastic bins
-several large cones
-several foam balls
-folding table set up with several overturned buckets on it, creating platforms of different heights
-"Pigs" printouts (from Angry Birds), laminated and taped onto bowling pins
-projector/large iPad for showing brief video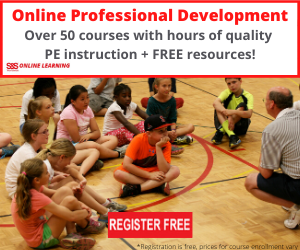 Description of Idea
Whole Group Introduction (5 mins):
Introduce/Reteach Frisbee Throws: Teach/remind students how to throw a foam frisbee.
Show video:
How do I know the top vs. the bottom of the frisbee? (The top is flat, the bottom is a scoop)
How to hold it:
*Thumb on top
*Fingers on the bottom
Cues to throw it: POINT-CROSS-STEP-FLICK
*Point it at your target
*Go across your body
*Take a step towards your target
*Flick your wrist and let the frisbee fly horizontally (flat) at hip height
Additional Video for Cues (and to see how another teacher introduces):
Catch: Lobster Claws or Alligator Snap
Activity Stations:
Demonstrate all 4 Stations, then kids rotate to each station for 5 mins per station
Station 1: Can Jam Slam: Throw towards another student standing behind large plastic tub, that student tries to "slam" frisbee down into the tub using his/her hands.
Station 2: Ice Cream Knockdown (foam balls balanced on cones) - students throw frisbees and try to knock "ice creams" off the tops of the cones.
Station 3: Partner Toss and Catch: Throw to your partner who is standing on a spot. Practice catching with lobster claws or alligator snap. See how many throws and catches you can get in a row!
Station 4: Angry Birds Frisbee: Frisbees are Angry Birds. Tape laminated "Pig" cutouts onto bowling pins and balance them on overturned buckets, table, etc. Students try to throw the Angry Birds at the Pigs to knock them over.
(Variation of activity from YouTube)
Variations:
-One way to modify is by shortening the distance that the student has to throw the frisbee
-Hand-over-hand support may help the student develop their technique
-Substitute a soft foam ball for the frisbee and have the student practice using that at each station
Assessment Ideas:
Observation checklist - see if students are using the proper motion (point, cross, step, flick) to throw, and if they are catching using lobster claws or alligator jaws
Submitted by Robin Largesse in North Grafton, MA. Thanks for contributing to PE Central! Posted on PEC: 6/13/2018. Viewed 49087 times since 5/24/2018.
Throwing and Catching a Frisbee

---
Previous Comments:
There are currently no comments to display. Be the first to add a comment!
---
---