Name of Activity:
Hula Hoop Tricks
Suggested Grade Level:
3-5
Materials Needed:
1 Hula hoop per student
Note: I prefer 36" hoops as they are way easier for kids to keep spinning than the smaller 24" hoops.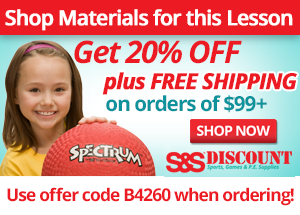 Description of Idea
Students will learn lots of different ways to have fun with hula hoops and challenge themselves by trying different hula hooping tricks.
I normally use this lesson towards the beginning of the year, so that when we are doing station work students will have lots of ideas for different ways to use a hula hoop. The video below is shown first so you can get a sense of what I do with these tricks in my class. Then below video I write out the challenges.
Video: Feel free to link up or embedd the video on this page as it will give a demonstration of each trick and some management tips for the lesson introduction.
Intro: Talk about management and make sure kids know when the music is off they should drop their hoops and sit down inside of them without touching them. If students have trouble with this you can let them try hula hooping with an "imaginary hula hoop" – it's a lot easier, but not as much fun…
Hula Hoop Challenges (modify or add more as you see fit):
Waist Hula Hoop
Start on your back, count to 3 and spin that hoop – try to keep it going as long as you can.
I've found that telling kids to move forward and back a pretty helpful cue
Extension: Try a waist hoop starting on your belly
Waist Hoop on Knees
Kneel on the ground and try to start your hula hoop while on your knees
Extension: Stand up from knees without dropping your hoop
Waist Hoop – Touch a Knee
Start hooping on your waist and then try to touch a knee or kneel down to the ground and stand back up without dropping your hoop
Neck Hula Hoop – AKA: "The Chicken Neck"
Start the hoop on the back of your neck and then bob your head like a chicken and try to keep it going
Be careful not to smack yourself in the face – start slow
Arm Hooping
Hold your arm out straight and spin your hoop around your wrist – keep your muscles tight and make small circles
Extension: Try to switch to another arm without stopping
Hula Jumping
Hold your hoop in front of you and jump through it like a jump rope
If your hoop keeps hitting the ground – pick up your hands and hold it a little higher
Extension: Try Hula Jumping Backwards
Knees Hula Hooping
Put your knees together and then start the hoop on the back of your legs and then start it spinning and see if you can keep it going on your knees
Extension: Waist to Knees – start on your waist and see if you can make it all the way down to your knees
Hula Hoop Skipping
Put the hoop on your foot with one foot inside the hoop and one foot outside the hoop. Try to spin the hoop around your ankle while hoping over it with your other foot.
SUPER HULA CHALLENGE (Professionals ONLY!!!)
Hand – Neck – Waist – Knees – Feet
COMPETITIVE ACTIVITY: HULA WAR
Challenge someone to a Hula War – if they accept proceed to the next step
Start hula hooping at the same time and walk towards your opponent
Last hoop standing is the winner!
Give your opponent a high five and find another to challenge (or go practice some tricks if you don't want to play Hula War)
Additional Notes:
If a student gets frustrated and doesn't want to try a specific challenge, just allow them to try a different one, it's about having fun being active – not becoming a professional hula hooper
Continue to encourage students for any small win and remind them to "Keep on Trying" and "Don't Give Up"
In between each challenge you can reinforce good examples by having "Showtime" where you select a willing student to show off that challenge – kids like to see other students doing the skill and it helps them see that it's attainable.
Assessment Ideas:
Use a self checklist assessment to see how many tricks students can learn
Have a Hula Hooping 1 minute challenge to see if anyone can hula hoop for 1 minute without any mistakes - anyone who makes it gets to write their name on the whiteboard
Adaptations for Students with Disabilities

Submitted by Ben Landers in Columbia, SC. Thanks for contributing to PE Central! Posted on PEC: 5/16/2018. Viewed 15726 times since 5/10/2018.
Hula Hoop Tricks

---
Previous Comments:
| | |
| --- | --- |
| Nicholas McIntosh | Looks like a great idea. Cant wait to try this |
| Karen G, | |
---
---