Name of Activity:
4 Lap Track Workout
Purpose of Activity:
To improve Cardiorespiratory Endurance as well as Muscular Strength and Endurance. This workout will help build those areas to improve FitnessGram testing scores.
Prerequisites:
The teacher can explain each activity before they begin. Most of these exercises are done in the classroom on a consistent basis, so the students should have prior knowledge on how to perform each activity.
Suggested Grade Level:
9-12
Materials Needed:
This is a Track Workout, however it could be modified to a gym (utilizing the four corners). Printed slips with workout exercises for students.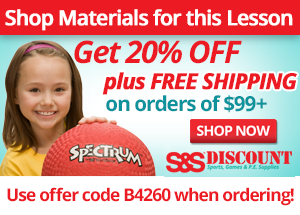 Description of Idea
The teacher prints off activity on small slips of paper for the students (they can work individually or in partners). Before the students perform the workout the teacher can show an example of each exercise as a reminder of how to perform the exercises. The workout usually takes about 35-40 minutes to complete. I use this workout with 9-12 PE classes as well as my Strength and Conditioning classes.
Jog 200m
50 Russian Twists (YouTube Video)
Walk 100m
Lunge 100m
50 Air Squats (water break)
Backwards Jog 200m
50 Leg Raises
Walk 100m
Broad Jump 100m
50 Jumping jacks (water break)
Skip 200m
50 Toe Touches
Walk 100m
Sprint 100m
50 Mountain Climbers (water break)
Karaoke/Grapevine 200m
50 Bicycles
Walk 100m
Bear Crawl 100m
(Water break and walk when finished)
Variations:
The activities could be modified for individual student success in completing the workout. Changing the activities would provide increased interest and motivation, for the students, if you are using this workout multiple times.
Assessment Ideas:
We use this activity to help our students improve their FitnessGram test scores. After they complete this activity, they can either relate each individual exercise to the 5 components of fitness. They could write on their FitnessGram goal sheet how this workout can improve their Cardiorespiratory test scores and their Muscular Strength/Endurance test scores on the FitnessGram. The students could design the activities in each workout segment and complete their workout addressing the above components of fitness.
Adaptations for Students with Disabilities

The activity tasks could be modified to fit the students abilities and needs.
The distances, repetitions, and the level of assistance could be modified to meet each students abilities and needs.
Submitted by Laura Melde who teaches at Copper Canyon High School in Glendale, AZ. Thanks for contributing to PE Central! Posted on PEC: 5/16/2018. Viewed 23830 times since 4/6/2018.
4 Lap Track Workout

---
Previous Comments:
There are currently no comments to display. Be the first to add a comment!
---
---