Name of Activity:
Pot of Gold Throwing
Purpose of Activity:
To reinforce the cues for the overhand throw.
Prerequisites:
Students know the overhand throw cues:
Turn body sideways, then:
-Point
-Ear
-Step
-Throw
Suggested Grade Level:
K-2
Materials Needed:
Yarn balls
foam balls
gator skin balls
mats
cones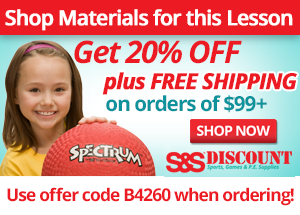 Description of Idea
This is a cool Saint Patrick's Day themed game.
Split the gym in half with cones down the middle. Half of the students on one side and half of the students on the other side. Stand up a few mats on each side in the shape of a circle. This will be the "pot of gold". Students will be aiming for the pot of gold on the opposite side of the gym.
Students are leprechauns. They throw rainbows (balls) from their side to their pot of gold on the opposite side. If the rainbow makes it into the pot, it turns into gold! Teams try to fill up their pot with as much gold as possible.
During the activity, emphasize the overhand throw cues (body side to target and that they are doing "point, ear, step and throw") are reinforced:
-Teacher states
-Teacher asks students to state
*Students may not cross center line during activity.
Variations:
Make it harder: I did not allow students to guard/block the pot, but it could be an extension of the lesson to make it more challenging.
Make it easier: Put a hula hoop on the opposite side close to their pot. If students cannot make it to the pot by throwing from their side, they may cross the center line and throw from inside the hula hoop. Making the distance shorter will allow for more success.
Submitted by Chance Condran who teaches at Halifax Area School District in HALIFAX, PA. Thanks for contributing to PE Central! Posted on PEC: 4/5/2018. Viewed 9193 times since 3/16/2018.
Pot of Gold Throwing

---
Previous Comments:
There are currently no comments to display. Be the first to add a comment!
---
---