Name of Activity:
6 Minute Challenge
Purpose of Activity:
To improve fitness and to teach students the importance of setting goals.
Prerequisites:
Jumping rope skills and hula hoop skills should be taught first.
Suggested Grade Level:
3-5
Materials Needed:
Pencils
6 Minute Challenge Record Sheets (
PDF
) (
Microsoft Word so it is Editable
)
Jump Ropes
Hula Hoops
Cones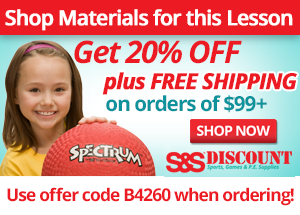 Description of Idea
Have students get into groups of 3. Each group needs a pencil, record sheet, jump rope and a hula hoop.
Before beginning the challenge. Discuss with students the importance of setting goals (if you have a goal you tend to work harder). Give them a goal for each task (e.g., after the 6 minutes the group will get 26 or more total laps; 500 or more hoop rotations; and 500 or more jumps).
To begin, one person in the group will run laps, one will jump rope, and one will hula hoop. After 1 minute is up, students quickly record their scores on the record sheet. Then players switch tasks. This continues for 6 minutes. At the end of 6 minutes, each player will have done each task twice.
Have the students add up their laps, hoop rotations and jumps to see if they met the goals.
Variations:
For my students who have difficulty jumping rope, I allow them to twirl the rope in one hand and jump up and down.
The students could set their own goals.
Could have students wear pedometers.
Submitted by Lisa Dess who teaches at Pagosa Springs Elementary School in Pagosa Springs, CO. Thanks for contributing to PE Central! Posted on PEC: 1/31/2018. Viewed 39415 times since 1/29/2018.
6 Minute Challenge

---
Previous Comments:
| | |
| --- | --- |
| SqUaT lOrD | What is the point of having the hula hoop? Why can't there just be two jumpropes? Jumping is a way better exercise than just moving your hips. |
---
---