Name of Activity:
Do You Wanna Build a Snowman?
Suggested Grade Level:
K-2
Materials Needed:
Any ball that bounces for children to dribble for each student (put out several types and let children choose)
1 poly spot per 2 students
Basket full of beanbags (your choice as to how many)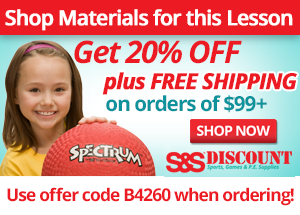 Description of Idea
Students are split up into pairs and both children are asked to find a ball to dribble, and then locate a poly spot (2 children at one poly spot) that are located around the perimeter of the playing area.
On your signal, each student must dribble 7 consecutive dribbles in a row (can be while stationary to start with and then teacher can go around and change the task if kids are doing well so maybe dribble around the poly spot 7 times) without losing control or making a mistake. If successful, the student moves (don't choose running--any other locomotor movement will do like sliding, skipping, etc.) to the middle of the gym and picks up a beanbag (represents snow) to take back to their poly spot. Students will use the beanbags to build a "tall snowman". They will simply stack the beanbags on top of each other. If it falls down, students can build it back up.
Once all beanbags are gone, students will have 1 minute to fix or rebuild their snowman if needed. Have each group count how many beanbags high their snowman is.
Variations:
-Students can drop and catch instead of dribbling
-Change the number of dribbles needed (lower or higher than 7) to get a beanbag
Submitted by Chance Condran who teaches at Halifax Area School District in HALIFAX, PA. Thanks for contributing to PE Central! Posted on PEC: 1/16/2018. Viewed 18161 times since 1/5/2018.
Do You Wanna Build a Snowman?

---
Previous Comments:
There are currently no comments to display. Be the first to add a comment!
---
---