Name of Activity:
Wheelchair / Gait Trainer BOWLING
Purpose of Activity:
The purpose of this activity is for non-ambulatory students to bowl while in their wheelchair or gait trainer, without the aid of a bowling ramp
Prerequisites:
This activity can be done with minimal to maximum assistance depending on the ability of the learner
Suggested Grade Level:
all
Materials Needed:
Bowling pins, yoga ball, poly spots or taped line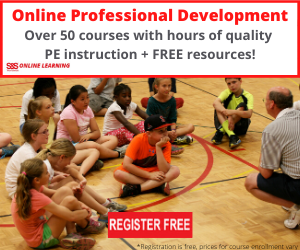 Description of Idea
This activity was created for non-ambulatory students who require a gait trainer or wheelchair to participate in PE. Set up bowling pins, just like in the bowling alley!
For best practice put poly spots in a straight line from the starting point where students will line their gait trainer or wheel chair up to where the yoga ball will be placed, usually 5-10 feet from the bowling pins (depending on skill of learner). Students will follow straight line of poly spots, gaining speed and will contact yoga ball with their gait trainer or wheelchair, trying to contact middle of yoga ball with middle of gait trainer or wheelchair (I put a piece of tape in the middle of their gait trainer or wheelchair so they can visually see where to make contact). After contacting yoga ball, students will stop propelling their gait trainer or wheelchair and hopefully yoga ball will be traveling in a straight line towards bowling pins.....CRASH!!!!
As students grasp concept of activity, additional space can be created between yoga ball and bowling pins, keeping students challenged.
Once again depending on skill, students can try contacting yoga ball without the guidance of poly spots.
Assessment Ideas:
If we want the yoga ball to move faster how do we make that happen?
A: we need to walk / run faster into the ball
If the ball goes sideways why is that?
A: we didn't contact the ball directly in the middle
Teaching Suggestions:
In a mixed class you would be to put the able-bodied students on scooters to even the playing field in the class.
Adaptations for Students with Disabilities

This activity has been created for kiddos with disabilities requiring wheelchairs or gait trainers to propel themselves.
If student is not able to propel themselves in straight line, staff or peers can help direct student towards yoga ball in straight line.
Distance from yoga ball to pins can be changed depending on ability of learner.
Put a dot in the middle of yoga ball so students can visually see where to make contact.
Submitted by Jameson Flynn who teaches at Fall River Public Schools in Fall River, MA. Thanks for contributing to PE Central! Posted on PEC: 11/13/2017. Viewed 10954 times since 11/2/2017.
Wheelchair / Gait Trainer BOWLING

---
Previous Comments:
There are currently no comments to display. Be the first to add a comment!
---
---