Name of Activity:
Toss it back!
Purpose of Activity:
This activity has multiple purposes. The main focus is on upper body and core strength. Other areas of purpose are communication, throwing and catching.
Prerequisites:
Students should know how to hold a pushup position. Throwing and catching are also skills that are integrated in this activity.
Suggested Grade Level:
3-5
Materials Needed:
one bean bag per pair of partners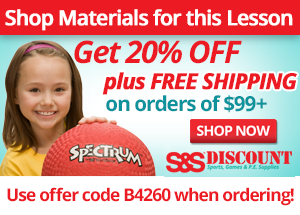 Description of Idea
Students work on cooperation, fitness and skills in a friendly game of toss it back. One student is in pushup position with a bean bag in front of him. The other student is behind him ready to catch the bean bag(almost like a quarterback getting ready to have the football hiked to him). When the student behind says hike, the pushup student throws it back over his shoulder. If the bean bag is caught it is deemed successful. The catching student runs around front and drops off the bean bag to the student in push up position. The activity then repeats. The goal is to get 3 completed throws and then switch turns. Pairs keep track of their points to challenge themselves and to challenge their classmates as well.
Video
Working some @CATCHhealth partner fitness w/ "toss it back" #sesconnects #schmalzchat #physed #katyphysed pic.twitter.com/2MSb2OIswc

— Coach Power (@CoachPower_SES) April 6, 2017
Video (takes you to twitter)
Variations:
There are a few different ways to modify this activity. Instead if of having the partner stand behind them, the partner could stand in front of them and catch the bean bag after the student in the push up position throws using and underhand throwing motion. If a bean bag is too difficult a scarf could be used as well.
Assessment Ideas:
The number of times a pair of partners is able to complete the task in a certain amount of time. For example if the partners each completed the task 2 times in a minute they would show that each could hold a position 6 different times, and they all threw/caught the beanbag successfully 6 times. They could then play again and challenge themselves to improve and self assess their growth.
Submitted by Scott Power who teaches at Schmalz Elementary in Katy, TX. Thanks for contributing to PE Central! Posted on PEC: 11/13/2017. Viewed 29740 times since 10/2/2017.
Toss it back!

---
Previous Comments:
There are currently no comments to display. Be the first to add a comment!
---
---