Name of Activity:
Plank Train
Purpose of Activity:
To build upper body strength and core strength.
Prerequisites:
Proper plank and/or downward dog form.
Suggested Grade Level:
K-5
Materials Needed:
None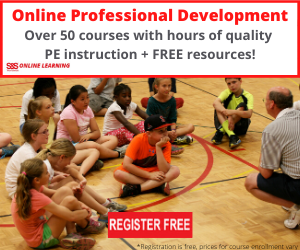 Description of Idea
Form a circle with groups of 5-8 students (use circles already on the gym floor if you have them - the bigger the circle the better). The first student holds a plank or downward dog position. The following students crawl underneath that student. Once they crawl underneath the student, they run around the circle and get to the back of the line. Once every student has crawled underneath the student holding the plank, the 2nd student (or the person who went under the student holding the plank first) holds a plank. Repeat until every students has had a turn holding a plank.
If you want your student to hold a longer plank, add more students to the group. You could also have multiple students hold a plank and have the student waiting in line crawl under all of the plank holders. Once the person holding the plank at the end gets crawled under by the last student, they join the line. Continue to add plank holders any way you choose.
Variations:
Use various bridge positions as well as the plank position.
For younger students shrink the number of students so the position can be held for less time.
Can be used as an instant activity.
Assessment Ideas:
Ask students at the end what muscles were being targeted during the plank hold.
Submitted by Blane Spiker who teaches at Pond Gap Elementary in Knoxville, TN. Thanks for contributing to PE Central! Posted on PEC: 9/16/2017. Viewed 52260 times since 9/12/2017.
Plank Train

---
Previous Comments:
There are currently no comments to display. Be the first to add a comment!
---
---