Name of Activity:
Adapted Dice Warm-up
Suggested Grade Level:
All
Materials Needed:
Large Foam Die / group; Exercise Board #1-6 / group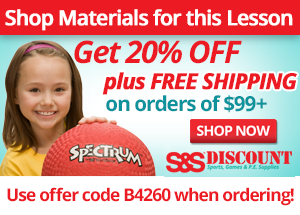 Description of Idea
Students get into groups of 3 or 4 and are scattered throughout the space. Each group has a large foam die and an exercise board.
One student at a time will take the die and roll it. What ever number it lands on is the activity number that the group will do. Everyone will take a turn rolling the die.
We mostly use this as a warm-up for our students who are in wheelchairs. An example of the exercise board would be:
#1- Knees to chest for 10 seconds
#2- Arms in and out 10 times
#3- Neck rolls for 10 seconds
#4-DANCE
#5- Reach up and hold for 10 seconds
#6- Leg Lifts for 10 seconds
Adaptations for Students with Disabilities

-Use various size dice
-Change the warm-up board to skill level
-Have students push the die off of their lap or tray and let it fall to the ground to see what they rolled.
Submitted by Karlee Wright who teaches at Mary Cariola Childrens Center in Hilton, NY. Thanks for contributing to PE Central! Posted on PEC: 9/7/2017. Viewed 15096 times since 8/15/2017.
Adapted Dice Warm-up

---
Previous Comments:
There are currently no comments to display. Be the first to add a comment!
---
---