Name of Activity:
1..2..3....WE LOVE P.E.!
Purpose of Activity:
To get students quiet and ready for the walk back to their classroom.
Prerequisites:
The students should know where to line up to wait for the classroom teacher to pick them up to go back to class. (I use a specific line in my gym). They also should have knowledge of karate kicks and crab kicks.
Suggested Grade Level:
K-2
Materials Needed:
None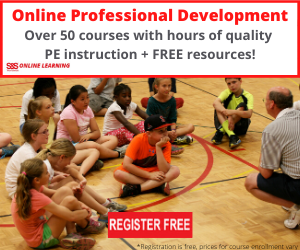 Description of Idea
When students are lining up at the end of physical education class, they are sometimes noisy so as soon as they hear me say,
"1, 2, 3!"
They reply "We love PE!"
I say...."4, 5, 6!"
They reply "We do 3 kicks!" (They turn to the side and do 3 karate kicks... or you could have them do get on the floor and do crab kicks to the side.)
I say... " 7, 8, 9!"
They repl, "We're ready for the line!"
They know after this that no voices, straight line and it is time to walk in the hallway.
Make sure to practice this at the beginning of the year.
Variations:
Pretend to shoot a basketball, do a field goal kick, the possibilities are endless.
Submitted by Bonnie Rodgers who teaches at Crestview Elementary School in Carlilse, PA. Thanks for contributing to PE Central! Posted on PEC: 8/11/2017. Viewed 18645 times since 8/10/2017.
1..2..3....WE LOVE P.E.!

---
Previous Comments:
There are currently no comments to display. Be the first to add a comment!
---
---