Name of Activity:
Power Ranger Poses
Purpose of Activity:
To help children learn more about mirroring and matching (and some balancing) while mimicking the actions of Power Ranger characters in a video. This also shows students that Field Day is coming up.
Prerequisites:
Make sure you have taught kids about mirroring and matching in previous lessons.
Suggested Grade Level:
K-2
Materials Needed:
Power Ranger Poses video, projector, and iPad/laptop.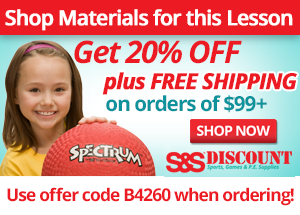 Description of Idea
Power Ranger characters will come up on the screen/wall. Students will then mirror what the character is doing. When the new character comes up, students will quickly change position, or you can pause the video so they can go through this slowly and you can check their positions.
You don't have to use the entire video. You could just use half of it. Pause the character on the screen, so you can see how the kids are doing and it gives them time to think about it. You can skip some of the poses too.
Assessment Ideas:
Checklist for each character to see if students correctly made the pose. Just list the pose and then the child's name if they did it.
Video

Submitted by Drew Burris who teaches at La Monte R-IV School District in La Monte, MO. Thanks for contributing to PE Central! Posted on PEC: 3/22/2017. Viewed 12076 times since 3/9/2017.
Power Ranger Poses

---
Previous Comments:
---
---